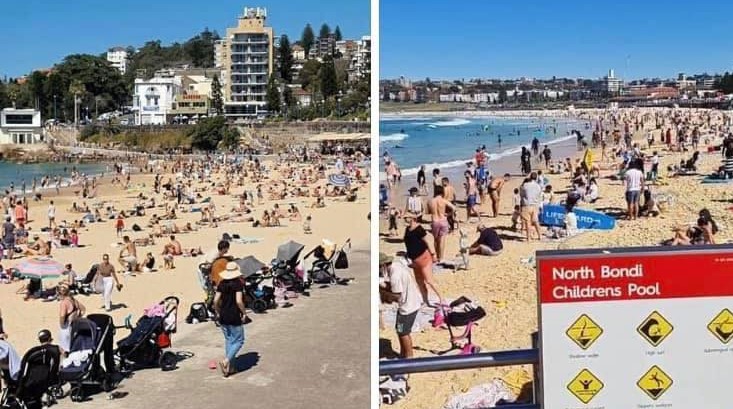 Last week residents in South Western Sydney were angry at the harsher restrictions imposed on them, from the curfew to being confined within a five kilometre radius.
But their anger became palpable once TV news started showing pictures of Eastern Suburbs residents packed in like sardines at beaches from Maroubra to Bondi.
When the so called health minister Brad Hazzard defended this disgraceful double standard, even local politicians were joining the pile on against the Gladys Berejiklian state government for the Eastern Suburbs.
State member for Campbelltown did not pull any punches when he posted on Facebook, along with these pictures at the beaches, what he thought of it all:
"This is bullshit and makes me so bloody angry,'' Mr Warren told his 12,000 followers.
"Particularly given this outbreak came from The Eastern Suburbs and we are now wearing the brunt of the toughest restrictions in the state, I feel it's just so unfair.

"I'll never take away or resent anyone having a good time, but fair's fair, which is why I take serious exception to us not being treated the same,'' Mr Warren posted.
"We're locked down – can't see our family – can't see our friends – have to comply with useless curfew rules – can't go to the beach and have to comply with every other restriction while others can do what they want!

"Gladys Berejiklian and the NSW Liberal Party government, we won't forget – and nor will I.''
A fired up Member for Macarthur, Dr Mike Freelander also joined the attack on the perceived hypocrisy of two sets of restrictions for one city.
"Scenes witnessed today at Bondi and the Eastern Suburbs rightfully have our locals angry,'' he said.
"It is a hard thing to see after 11 weeks in lockdown, after having a curfew imposed on our community, and after so many businesses and local families have been struggling.
"Local residents are rightfully questioning the disgusting double-standards we are seeing in terms of the enforcement of our public health orders.
"The outbreak, which began in the Eastern Suburbs, has wreaked havoc upon Western and South Western Sydney.
"It is a hard thing to digest – seeing hundreds of people openly flout the rules, and authorities turn a blind eye in the very same communities today.
"They turned a blind eye when the outbreak began in the Eastern Suburbs, and are doing so again now.
"This has become a tale of two cities,'' Dr Freelander said.
"Either the curfews have a role to play in this, and then should be applied equitably to all of our city, or they do not and the government should therefore release our community from this additional restriction.
"It is time that the government stopped treating us as second class citizens.''