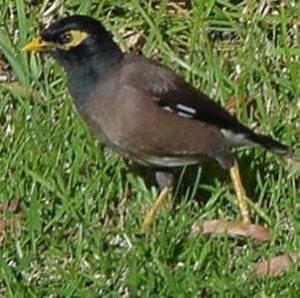 The feral pest that is the Indian Myna bird is in the sights of Campbelltown Council.
The Indian Myna – sometimes known as the rat of the sky – is rated as one of the world's top 100 most invasive species.
The council is serious about reducing its numbers across Campbelltown and has launched a program which it hopes will do just that.
The Indian Myna Bird Action Program is being rolled out in partnership with local Men's Sheds, to help raise awareness of the bird's effects on human health and the environment and to provide effective methods for controlling the bird's numbers in the local area.
Interested community members can participate in the Indian Myna Bird Action Program by attending a short workshop to learn about the Indian Myna's effects on human health and the environment, effective trapping methods, humane euthanasia, animal welfare protocols, and more. Participants will then be able to purchase an Indian Myna bird trap, tailor-made by one of the local Men's Sheds or, alternatively, be supplied with plans to make their own trap.
Originally native to India, the Indian Myna bird was introduced to Australia during the late 1800s to control insects in market gardens. They then spread rapidly throughout Australia, following the expansion of agriculture and urban development.
Council encourages community members to participate in the program to help reduce the effect of Indian Myna birds on our environment and public health.
Indian Myna birds pose a threat to the long-term survival of many native birds and animals and are considered as a concern for biodiversity at a global level.
Given the bird's ability to spread disease and impact on human health, the effective management of this feral pest is set to benefit the community on many levels. Local residents are therefore being encouraged to learn how they can help contribute to bringing the bird's numbers under control in the local area by participating in the program.
Workshop participants will learn how to reduce feeding, roosting and breeding opportunities for the Indian Myna bird, as well as undergo training on how to effectively trap and humanely euthanise Indian Myna birds based on methods that are acceptable to the community, Government and animal welfare authorities.
Indian Myna birds are opportunistic scavengers and will eat almost anything that is easy to find. They gather noisily in large numbers to roost (sleep), often in
non-native trees and palms.
Indian Myna birds can be identified by their black head, yellow beak and eye patch, chocolate brown body, white wing patch (highly visible in flight) and long yellow legs. They are not to be confused with the Australian native, the Noisy Miner bird, which is a protected species.
For more information, or to register for one of our workshops, phone 4645 4601, email environment@campbelltown.nsw.gov.au or visit campbelltown.nsw.gov.au/indianmyna
Details of the workshops will be announced in coming weeks. Sightings of Indian Myna birds in your local area can be reported online at feralscan.org.au/mynascan