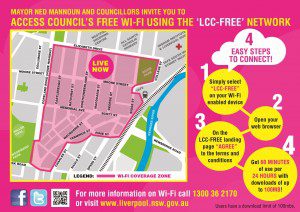 Liverpool City Council will launch its free city centre wi-fi at its Starry Sari Night event this Sunday, September 21, to better connect the community with roaming coverage within a specified city centre zone.
Liverpool City Mayor Ned Mannoun said there is now free Wi-Fi access available throughout key areas in the city centre as an extension of council's existing CCTV system – making Liverpool a  leading tech savvy city.
This is one of the first integrated Wi-Fi and CCTV solutions in Australia and certainly one of the most advanced.
"The installation of Wi-Fi also coincides with Liverpool's transformation plans for the city centre," Cr Mannoun said.
"This infrastructure is a smart move for Liverpool that will connect our community to greater opportunities and foster our vision to be a more vibrant and accessible place for everyone.
"With a rapidly expanding population it is vital that we prepare for this growth and Wi-Fi access will help us to cater for the future needs of our city.''
Further to council's Wi-Fi service, which offers up to 100 MB of data, per 24 hour period, per device, there will also be additional options explored including a premium month to month service, day rates and potential for business tailored packages.
"Local businesses will benefit too, as this wireless technology drives us to become a more accessible, active and connected city for shoppers, visitors and workers," Cr Mannoun said.
For a detailed map of Wi-Fi coverage or for more information visit the Liverpool City Council website, www.liverpool.nsw.gov.au or phone Council on 1300 36 2170.