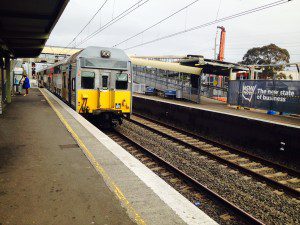 Avoid a near miss or serious injury around train tracks is the message to South West Sydney commuters this week as police target individuals taking risks at level crossings and in rail corridors.
Rail Safety Week which started yesterday (August 11), will involve officers from Traffic and Highway Patrol and the Police Transport Command patrolling train lines, rail corridors and level crossings for illegal and dangerous activity.
Each month the Independent Transport Safety Regulator receives up to 10 reports of near hits from train drivers at level crossings.
Each near miss can cause considerable damage to infrastructure as well as disruption to commuters.
Last year police took action against 392 people for level crossing traffic offences, an increase of 45 percent from 2012.
They detected level crossing offences at around 100 individual sites spread over 64 towns throughout the state.
In 2013 there were also 93 people arrested and 208 infringements issued for pedestrians entering rail corridors and/or crossing running lines under the Passenger Transport Regulation 2007.
Traffic and Highway Patrol Command's, Senior Sergeant Mick Timms, said police would target risky behaviour to ensure lives aren't lost.
"This week highlights the need for all motorists and commuters to be vigilant around train lines and level crossings.
"Pushing the limits at level crossings to beat a train is dangerous and risky, and losing your life rather than waiting a few moments is incomprehensible.
"Police will be out to ensure all drivers use caution at level crossings by stopping when appropriate; as well as remaining alert and focussed, not using mobile phones or being distracted whilst driving," Senior Sergeant Timms said.
Police Transport Command's, Inspector Craig James, said officers will be targeting trespass and rail offences.
"Police Transport Command will be out targeting those trespassing on train tracks and in rail corridors as what can only be described as extremely dangerous behaviour.
"Entering rail premises to take a shortcut or to graffiti different areas places you at serious risk of being hit by a train and possibly killed.
"We are out patrolling trains day and night and will take action against those holding up the commuting public or putting themselves and others at risk," Inspector James said.