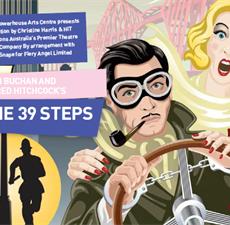 The famous Alfred Hitchcock thriller 39 Steps will be staged in the theatre of the Casula Powerhouse Arts Centre on August 27.
The 39 Steps is a fast-paced, side-splitting comedy featuring over 100 characters played by four actors. Based on the 1935 Hitchcock spy thriller movie and novel by John Buchan, the stage production is currently the longest running comedy in the West End of London and winner of major theatrical prizes from Tony Awards® to the Olivier and Helpmann Awards.
Handsome hero Richard Hannay meets a mysterious woman, who reveals a plot to smuggle military secrets out of the country.
That night, she is found murdered in his apartment. With the police and international spies hot on his heels, Hannay races to solve the mystery of the man with the missing finger.
His heart-racing adventures involve death-defying escapes from planes, trains and automobiles with the beautiful blonde bombshell Pamela.
Paying homage to the 'spy' genre as well as other classic Hitchcock films, the spectacularly funny and cleverly performed stage adaptation of The 39 Steps was hailed as being "theatre at its finest" by The New York Times.
Following a smash hit 2013 season HIT Productions brings The 39 Steps back for Australian audiences in 2014. A rip-roaring night out for all the family, don't miss this theatrical tour de force already seen by over three million people in more than 60 countries!
The play is adapted by Patrick Barlow, from an original concept by Simon Corble and Nobby Dimo
This is what Allison Hilbig, Theatrepeople, had to say about 39 Steps: "The 39 Steps won the Olivier Award for Best Comedy in 2007 and it is easy to understand why. There was laughter, wheezing and snorting to be heard 
throughout the full house! This is an hilarious comedy the whole family will enjoy and is suitable for all ages. There are plenty of visual gags that will entertain even the younger audience members. The 39 Steps is a great family night out!"
The play is adapted by Patrick Barlow, from an original concept by Simon Corble and Nobby Dimo.
THE 39 STEPS
7.30pm Wednesday, August 27
Duration: 130 minutes including interval
Cost: $40 Adults, $35 Concession, $32 Groups (10+)
Bookings: Contact 9824 1121.