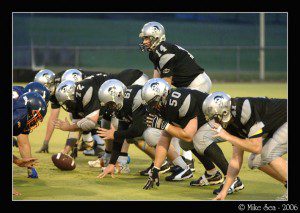 The Western Sydney Pirates first division gridiron team will have an opportunity to get one back on the Sydney University Lions when they meet in the 2014 decider, the Waratah Bowl, this Saturday evening.
The Pirates, who were formed in 1986, making them the third oldest club in NSW, have faced the Lions three times in the grand final and lost every time.
In 2011 they were thrashed 47-8, got close in 2008 (38-34) and crashed out four years earlier in 2004 (32-7).
This year's final match of the NSW Gridiron division one season is on this Saturday, December 13 and will be played at 5Sports, Caringbah from 6pm.
The Students made it through with a gritty victory over UTS last weekend, while the Pirates emerged the winners from a tough tussle against the Sutherland Seahawks in the second match of the semi final double header at 5Sports.
The heavens opened up as the Pirates hit the field to warm up and the rain did not stop until five minutes after the game was over, and the scoreboard in the Pirates' favour 22-14.
Teams traded punts in the early exchanges. With good field position, the Seahawks took their second drive all the way to the endzone to open the scoring and a 6-0 lead.
After the two teams traded punts again, the Pirates got a drive going that included a crucial catch by Dean Toskoski in the wet conditions to get his team out of a dire situation and into scoring position.
The drive was finished with an Albert Bernard 7 yard touchdown and the scoreboard now showing at 6-6.
With only three minutes left in the half the Seahawks tried to mount a drive but on their first play they fumbled and linebacker Reece Davis recovered in Seahawks territory.
One play later Dean Toskoski was celebrating in the endzone with the score. Albert Bernard got the two points, giving the Pirates their first lead of the game, 14-6.