Their best forward in 2019, Ryan Matterson, has left the jungle for greener pastures, but the Wests Tigers are moving quickly to lock in other members of the engine room ahead of the 2020 season.
Luke Garner, who was close to the second best Tigers forward last NRL season, has agreed to terms for a contract extension that will keep him at the club until the end of the 2022 season.
The ink was hardly dry on the Garner extension when Wests Tigers announced that another young forward, Alex Twal, pictured below, has signed a new contract.

The new, two-year deal will see also Twal remain with Wests Tigers until the end of the 2022 season.
The 23-year-old recorded career highs in offloads, metres gained and tackles, and finished as one of the most effective tacklers in the league with a 95.1 percent tackle efficiency rate.
It's no surprise then that Wests Tigers head coach Michael Maguire has a lot of time for Alex Twal.
"I've been thoroughly impressed with the way he grew his game throughout the year, and I have no doubt that his role in this team will only continue to grow in the coming years,'' Maguire said.
"For a player of his age, Alex has really matured on and off the field and we're very excited to see him continue his development into a real leader for Wests Tigers," Maguire said.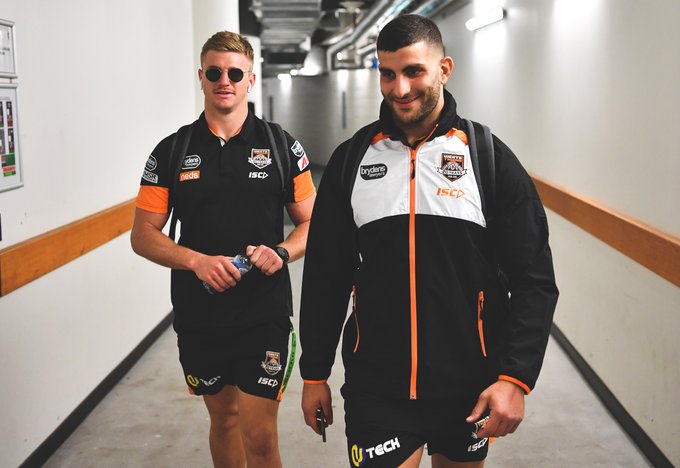 Luke Garner believes the club is heading in the right direction, so staying at Concord was an easy decision.
"We're building something very nice here and it's very exciting to see the development in our team,'' Garner said.
"I'm focussed on working hard and pushing my teammates and seeing where we can go in the next few years."

Maguire says he sees Garner getting "better and better''.
"He has worked extremely hard to get to where he is in this team and I have no doubt that his discipline and dedication to improving will only see him get better and better."