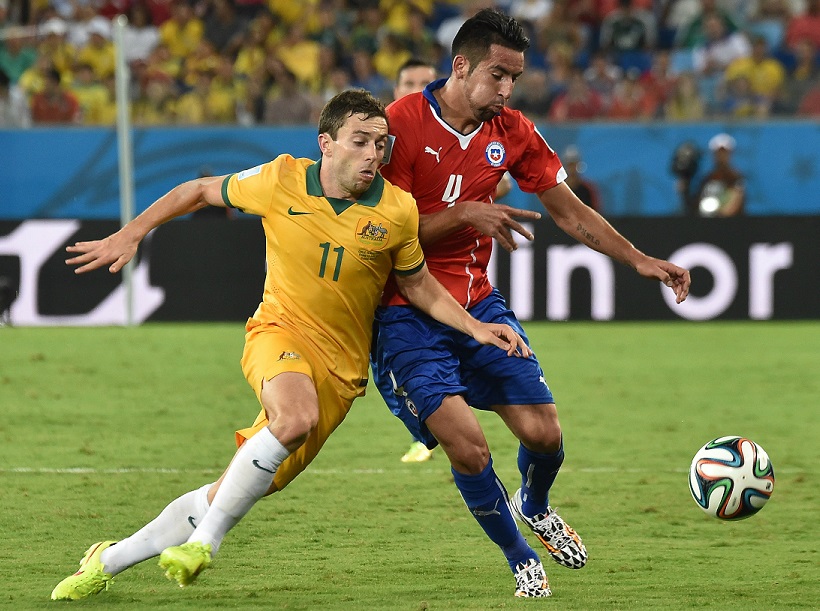 Tommy Oar was the first signing for Macarthur FC.
But injury has meant the former Socceroo has been flying under the radar since the season started a week ago.
Having recovered and resumed training in the past week, Oar, pictured above playing for the national team, is almost certain to get some game time today against the Central Coast Mariners at Campbelltown Sports Stadium.
The speedy winger will be lining up against his old club if Bulls head coach Ante Milicic throws him into the action at some stage.
At his last press conference before the match, Milicic told the media that while Oar had missed a lot of the preseason, he was now available for selection.
"He will probably be on the bench, and could potentially add value to our effort from there,'' Milicic said.
The Bulls coach admitted that after Sunday's strong performance from his squad against the Wanderers in a 1-0 away win, he had some selection headaches.
"It's going to be hard to leave any of the boys out but I guess it's a good problem to have.''
Milicic was full of praise for "Fedders'' – goalkeeper Adam Federici, who had a blinder in round one.
But there is more to Federici, pictured below, than just making saves, as spectacular some were last Wednesday night.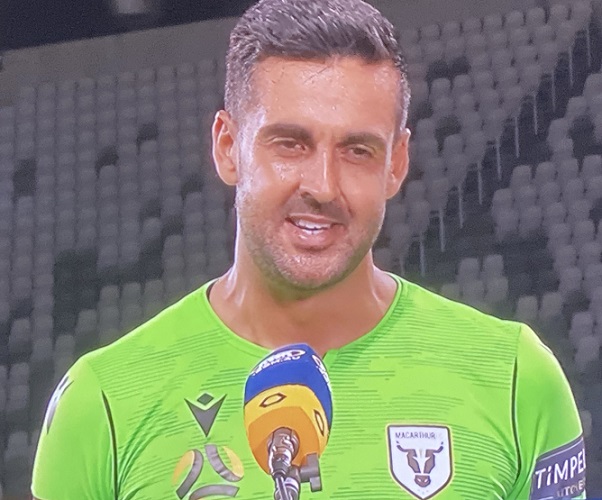 "He talks, communicates on the field and off the field; he really has come back with a strong desire to play and to win,'' Milicic said.
"Adam had a fantastic game, he was just excellent for us.''
The coach said he was hoping that his team would receive some good local support in their first home game at Campbelltown Sports Stadium.
"Playing at home it's important we get a good result,'' he said.
"It will go down in history, being the first game there.
"The boys are determined to do well, being the first time they will be playing in front of their family and friends.''
As well as the Covid restrictions, the weather hasn't been kind, with showers on and off all morning in Campbelltown, so it will at the very least be a good test of how fickle soccer fans are in South Western Sydney.
C'mon the Bulls!
Macarthur FC squad:
1.Adam Federici,
3.Antony Golec,
4.Benat Etxebarria,
5 Mark Milligan (captain),
6.Aleksandar Jovanovic,
7.Ivan Franjic,
8.Denis Genreau,
10.Loic Puyo,
11.Tommy Oar,
14.Moudi Najjar,
15.Aleksandar Susnjar
16.Nick Suman (goalkeeper),
19.Michael Ruhs,
21.Jake Hollman,
22.Liam Rose,
27.Matt Derbyshire,
29.Antonis Martis,
31.Lachlan Rose,
33.Markel Susaeta
(3 to be omitted)
Macarthur FC v Central Coast Mariners
Campbelltown Stadium, Campbelltown
Kick-Off: 4:05pm (Local) (4:05pm (AEDT))
Referee: Daniel Elder
Assistant Referee 1: Kearney Robinson
Assistant Referee 2: Andrej Giev
Fourth Official: Stephen Lucas
VAR: Kris Griffiths-Jones
TV Broadcast: Live coverage on FOX SPORTS 505 from 3:30pm (AEDT), Sky Sport 7 (New Zealand), Kayo Sports (www.kayosports.com.au) and MyFootball Live App, Live Fast and Data Free for Telstra mobile customers.