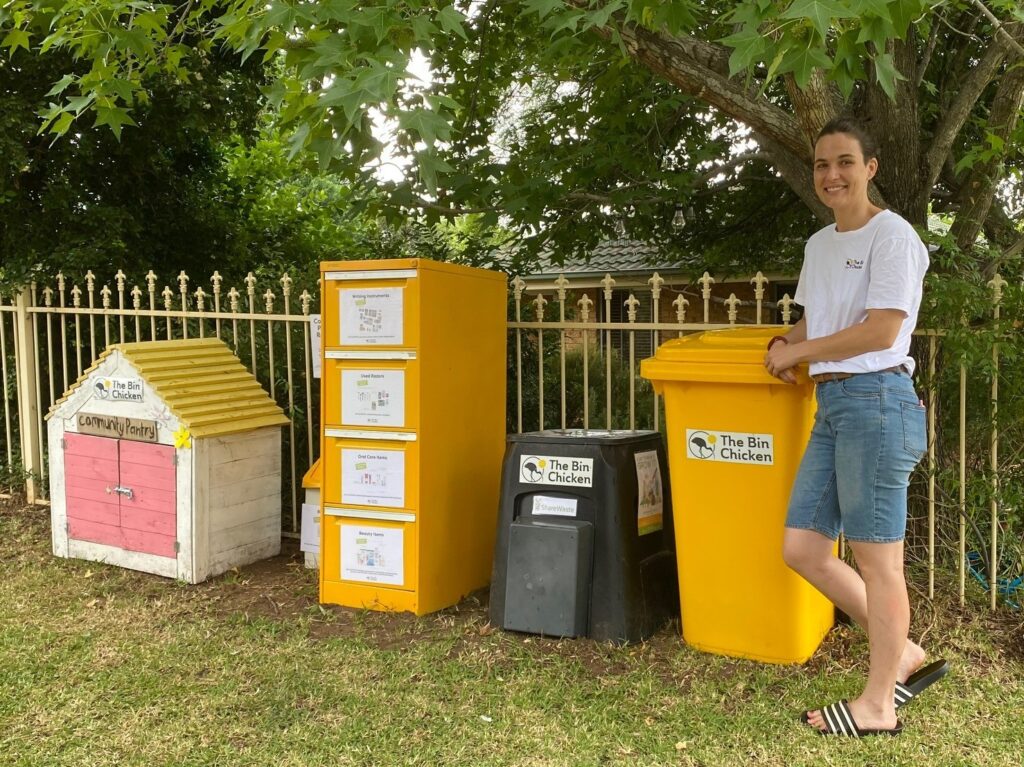 Alexis Bowen, the young St Andrews woman who founded The Bin Chicken initiative, is in line to be crowned NSW environmental citizen of the year.
Ms Bowen is one of nine nominees for the prestigious award, offered by the Australia Day Council of NSW in partnership with Return and Earn and the NSW Government.
The 2022 winner will be announced on June 5, World Environment Day. They will also receive $3,000 to put towards their community initiative.
The runner-up will receive $1,000.
Alexis Bowen created The Bin Chicken in 2020, a local environmental business committed to reducing the amount of Campbelltown's recyclable material entering landfill by improving the ease of recycling and investing profits into the local community.
A feature story in the South West Voice on March 3 this year revealed that evening walks with her children in Eschol Park which saw them pick up rubbish they saw was the beginning of The Bin Chicken.
Within five weeks Ms Bowen and her two young children had collected more than 5,000 single use drink containers as litter.
This prompted the start of The Bin Chicken recycling program, which proved very popular in the Campbelltown area.
"The Bin Chicken has motivated its local community to recycle their drink containers by using their free recycling program,'' says the citation for the 2022 NSW environmental citizen award.
Ms Bowen was named Campbelltown environmental citizen of the year at the 2022 Australia Day awards presented by the council.
"The program has collection points at day cares and sporting clubs in the Campbelltown area as well as collecting from residents at their homes,'' the award citation said.
"The containers are collected from these locations on a monthly basis, and a portion of the refund is returned to the sporting clubs and day cares.
"The Bin Chicken shows the community that recycling holds value by using the 10c refund from the containers to run the Community Pantry and Recycling Hub located in St Andrews.
"This hub is free for the community to access any time, for those in need of pantry staples and has improved access for "hard to recycle" items for example; used oral care items, blister packs, bread tags and many more.
"The Bin Chicken hopes to encourage other recycling champions to establish more recycling hubs in other suburbs of Campbelltown, using the St Andrews hub as a model.''