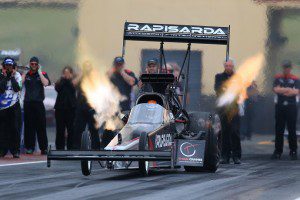 Cory McClenthan, Steven Reed, John Zappia, Mark Drew, Tyronne Tremayne and Scott White have all secured wins at the East Coast Nationals in Sydney.
Visiting NHRA star Cory McClenathan scored his second Top Fuel win in a row following his Winternationals victory in June, ensuring he is now unbeaten in his last three starts Down Under since the 2011 Australian Nationals.
McClenathan defeated teammates Wayne Newby and fellow American Dom Lagana to set up a showdown with returning three time champ Darren Morgan.
In a pulsating final it was the American who had the start line advantage on the Aussie with a superior .070 reaction time to a .150.
A hard charging Morgan made up ground on McClenathan who burst into flames at approximately 1000 feet as Morgan ran out of real estate. Cory Mac kept his foot on the throttle taking a spectacular flaming holeshot win on a 4.685 ET at 314.17 mph from a 4.675 at 317.87 mph.
"I come here to Australia to race, I come to have fun and enjoy myself and try to do the best I can for Santo (Rapisarda)," McClenathan said.
"For some reason it just falls into the right place.
[social_quote duplicate="no" align="default"]"It must be the alcohol or the food with Santo,'' joked McClenathan. "He's always saying 'eat the meat!'[/social_quote]
"But the boys work really hard when I'm not here that's the biggest thing and bringing Lee Beard (Crew Chief, to Australia), that helps a lot."
Steven Reed was rewarded for his consistency in Top Alcohol this weekend eliminating Robert Ambruosi and Peter Zellow to reach his third final in a row at Sydney Dragway dating back to May 2014.
It was an emotional final win for Reed who dedicated the win to his sick mother who could not be at the track this weekend.
"We've had a pretty good luck here I guess," Reed said. "This weekend was pretty important, Mum and Dad weren't here. Mum is really sick and she asked to win this race for her. It's just amazing how you can do it."
John Zappia wrapped up another Series win making it two in a row for the 8-time Top Doorslammer champion following the NT Titles in Darwin.
Zap first defeated former champ Peter Kapiris in Round 1 before the returning Andrew Searle fouled at the tree by just .001 seconds trying to get the edge in the semi final.
In a rematch of the Winternationals Top Doorslammer final, Zappia faced another former champ in Ben Bray. Although it wasn't a repeat record setting pass, the result was the same as Zappia ran low ET of the weekend on a 5.762 at 249.58 mph to Bray's 6.325 at 186.74 mph.
"We dropped a valve, that could have caught us out and we had to change a motor," Zappia said.
Mark Drew didn't quite reach the heights of the 6.4-second passes of the night before but still went all the way to claim another Top Fuel Motorcycle trophy and start his title defence in perfect fashion.
A solo in Round 1 set up a semi final with Michael Gregg in what turned out to be his only paired pass in eliminations. Unfortunately Chris Porter could not take his place in the final allowing Drew to make a solo 7.758-second pass at 163.73 for the win.
Tremayne is a familiar name on the winners list in Pro Stock and this time it was Tyronne taking his first win since the Benaraby Nationals over a year ago. Tremayne first drove around Emilio Spinozzi in Round 1 before taking out Nino Cavallo on a holeshot in a side-by-side 6.94-second pass.
Pro Stock Motorcycle has a new name on the winners list as Scott White claimed his first ever ANDRA Gold Christmas Tree in over 20 years of racing.
White first overcame Locky Ireland in Round 1 and then Glenn Wooster in the semi final to set up a final with Corey Buttegieg on the Harley Buell.
All six winners picked up ANDRA Gold Christmas trees and ANDRA Drag Racing Series points toward the 2015/2016 Championship.