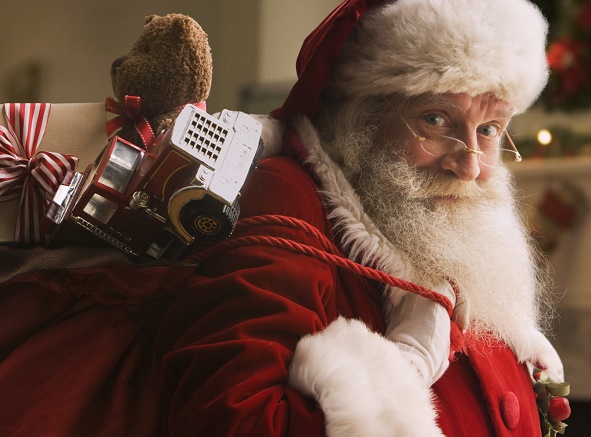 Santa Claus is going to literally rock Campbelltown this Christmas.
The jolly man in the red suit will lead the way when the Rocking around Campbelltown Christmas Convoy hits the road at 2pm on Saturday, December 5.
The convoy will include Santa and his sleigh, carollers singing Christmas favourites and Batman in his Batmobile.
Our council sources say there will also be a few surprise vehicles along for the ride, but could not tell us who they will be and what exactly they will be doing.
But what they do tell us is that few Campbelltown suburbs will miss out when Santa spreads the joy, spirit and sound of Christmas to a local streets on December 5.
Santa will be rocking his way through Campbelltown CBD, Macarthur Heights, Park Central, Macarthur Square, Englorie Park, Glen Alpine, Ambarvale, Rosemeadow, St Helen's Park, Airds, Bradbury, Ruse, Leumeah, Minto, Ingleburn, Macquarie Fields, Glenfield, Bardia, Denham Court/Willowdale, Bow Bowing, St Andrews, Raby, Kearns, Eschol Park, Claymore, Blairmount, Eagle Vale, Woodbine, Blair Athol and Campbelltown residential areas.
It's a big task, but if anyone can do it it's the big man with the white beard and the red suit.
Council's events team will also be releasing a map of the route very soon, so that families can see where the best vantage points will be for some social distanced Christmas fun.
The community will be able to track Santa's progression through the LGA via council's social media pages and local media.
You won't be surprised to learn that the Rocking around Campbelltown Christmas Convoy has been organised by Campbelltown City Council to replace the traditional Christmas Carols concert in the sports stadium.
Ongoing Covid-19 social distancing restrictions have made hosting a carols event just about impossible.
On the other hand, Rocking Around Campbelltown sounds like a great idea, so well done Campbelltown Council – we can't wait for December 5 to cheer Santa on.