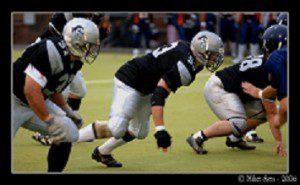 The West Sydney Pirates will go into the off season wondering what could have been following their defeat in the 2014 New South Wales Gridiron Football League (NSWGFL) Championship game held at Five Sports Park, Caringbah.
In a physically brutal match the Pirates toiled gallantly against The Sydney University Lions for the duration of the Waratah Bowl, finally succumbing to their power running game losing 42-14.
Maybe with the thoughts of Chris Noble in their minds who died in the tragic fire earlier this year, the Lions played their own football with what in the minds of many was a below par regular season.
The Lions of old showed up to play this game which is always enjoyed by players and spectators alike and it was obvious they had done their homework.
For the Pirates, #90 Shannon Lynch and #81 Albert Barnard shone in a game where the Lions dominated the Pirates across the field.
So, it's back to the drawing board for next season for the Pirates brain trust.
In the meantime, the West Sydney Trojans (Pirates U15-19) team will start training shortly. If you are interested in playing, you don't need any experience, so feel free to contact David Ward on 0410 472 531.
MIKE SEA