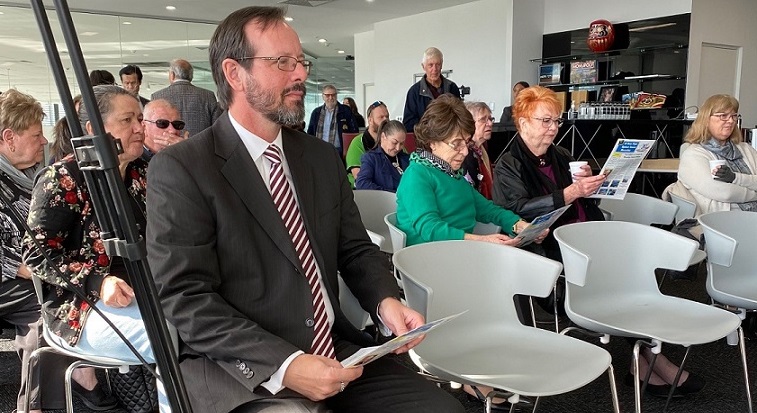 The doctor behind our amazing cancer therapy centre, a late cricket legend, a church elder who helps refugees and a rural fire volunteer are among eight people from the South Western Sydney region who have made the Queen's Birthday 2021 Honours List.
The magnificent eight are the late Allan Connolly, Dr Stephen Della-Fiorentina, Colin Elliott, James Hewish, Matt Smolcic, Pamela McPherson, Edgar Gaunt and Patricia Fruean.
On Friday morning, Dr Stephen Della-Fiorentina was at Gregory Hills, pictured above, helping to launch another year of fundraising by the 24 Hour Fight Against Cancer Macarthur charity.
It is something he has been doing for several years and it's not just because the charity raises a lot of money every year for the Macarthur Cancer Therapy Centre at Campbelltown Hospital, which he runs.
Since he turned his focus to oncology 20 years ago, Dr Della-Fiorentina has made it his mission to fight cancer whenever and wherever he can.
Mainly it's by helping to bring as many services to the region as possible – and that is why he has been named in the Order of Australia Honours List for services to oncology.
"I'm immensely proud,'' he told the South West Voice when we asked him on Friday how he felt about receiving an Order of Australia.
"It's a culmination of all of my work but it's also about all of the people who have helped me over the years, from the Campbelltown perspective,'' he says.
Dr Della-Fiorentina played a crucial role in having the cancer therapy centre built at Campbelltown instead of Liverpool.
"I said 30 percent of your population lives here, so they need a cancer centre closer to home,'' he says.
"So to win that argument and have it built and be the foundation director, and all of the people who have worked with us, and all the awards we have won, I am so proud of what we have achieved.
"I've been blessed to have great people with me; Denise Burns my nursing manager is involved in all of this, and if it wasn't for her I wouldn't be where I am now,'' he says.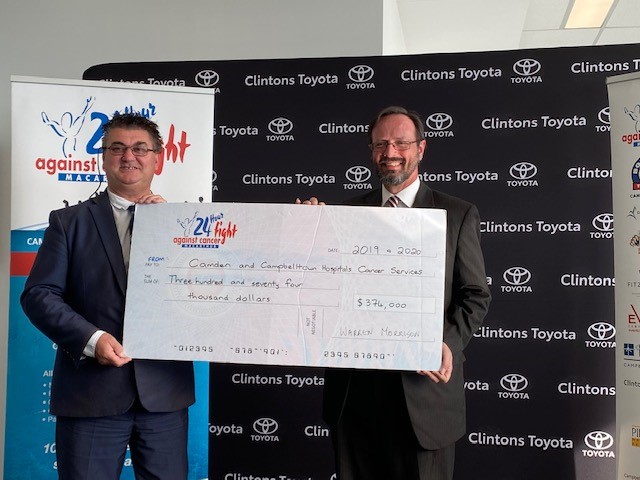 The Macarthur Cancer Therapy Centre has been named best cancer centre in NSW for six years in a row, and Dr Della-Fiorentina has no doubt that the money from 24 Hour plays a crucial role in winning that accolade.
"This is a unique organisation that helps to provide services that stay in the area, and for the fact that we can do things that no other centre has,'' he says.
"The patient bus, complimentary services we provide free of charge, additional staffing, the ability to help children, so many things.
"I am forever advocating for the community, trying to get more funds, because the people that need services should get services, and that's what I try to do.''
xxxxx
Colin Elliott, the chair of Campbelltown Uniting Care since 2002, has received his Order of Australia honour for services to the community of Campbelltown.
The Gilead resident is currently involved with the Uniting Care refugee support program and is also a church volunteer.
xxxxx
Minto resident Patricia Fruean has been named in the honours list for services to the Pacific community.
She has been the head co-ordinator of the South West Multicultural and Community Centre and is also a member of the NSW Council for Pacific Communities, as well as other committees.
xxxxx
Edgar James Gaunt, of Cobbitty, has served on two bush fire brigades, West Camden and Cobbitty.
He has also volunteered at numerous community activities over many years and has been named in the Order of Australia honours for services to the communities of Camden and Cobbitty.
xxxxx
Pamela McPherson receives her Order of Australia honour for services to netball.
Roles have included Campbelltown District Netball Association coach since 2017, and previously at Bankstown and the Hills associations.
xxxxx
Elderslie resident Matt Smolcic has received an Order of Australia for services to aged welfare.
He was chief executive officer of the Cardinal Stepinac Village Nursing Home during 1992-2019 and has been actively involved in major community fundraising activities over many years.
xxxxx
James Hewish, of Chipping Norton, has received his Order of Australia for significant service to short track speed skating through a range of roles.
xxxxx
The late Allan Connolly, pictured below, was the heart and soul of Campbelltown Camden Ghosts cricket club.
He served in official roles for many years, including president for eight years between 2000 and 2008.
But it was his work behind the scenes to help establish a magnificent sporting facility at Raby Sports Complex that really symbolises what motivated Allan Connolly.
This posthumous Order of Australia honour is thoroughly deserved for a man who did so much for the local community before he lost the battle against cancer a couple of years ago.