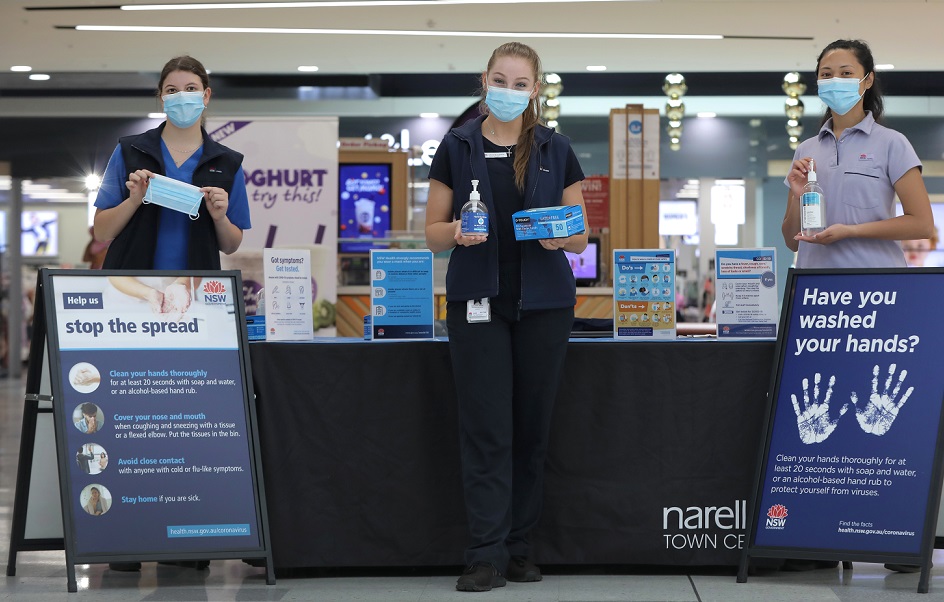 Next time you go shopping do not be alarmed if you see a group of nurses and multicultural health workers in uniform talking to the community.
It's all part of the continuing fight against the Covid-19 pandemic in South Western Sydney, one of Australia's most culturally diverse communities – 51 per cent of residents speak a language other than English at home and more than 44 per cent of the population was born overseas.
Local frontline healthcare staff are taking the fight against Covid-19 to local shopping centres, using the power of their own languages to help stop the spread.
In a NSW state-wide first, healthcare staff in full uniform, including nurses and multicultural health workers, with Vietnamese, Arabic, Hindi and Assyrian heritage are speaking in their first languages to shoppers at Narellan Town Centre, pictured, Campbelltown Mall and Carnes Hill Marketplace to encourage them to take every measure to protect themselves and their loved ones during the pandemic.
Since November 13 the team have been at Westfield Liverpool to answer Covid related questions from the local community.
Next Monday, November 23, they will be at Oran Park Podium.
Amanda Larkin, the chief executive of the health district here in South Western Sydney, says residents appreciated the opportunity to speak in their own languages to healthcare staff, who are acting as roving Covid ambassadors in their communities.
"This is an opportunity for shoppers to engage our staff in their own language and hear first-hand how to stay safe during the pandemic and stop community transmission," Ms Larkin said.
"We are a community of many cultures and our shopping centre visits are another way we are sharing important information.
"Thank you to everyone who stops to ask questions and receive information. By supporting each other and working together, we can help to keep our community safe."