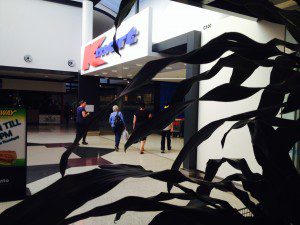 When it declined so badly that it was down to three or four shops battling on, some people were convinced that Minto Mall would never re-open.
Or that it would ever be as good as it was in its heyday in the 1980s, 90s and even well into the 21st century.
But a few hardy souls like me – you could call us true believers – never doubted that it would one day make a comeback.
Which it did, one huge day just before Christmas, when thousands upon thousands of people poured through the new look Minto Mall. It had a new name, Minto Marketplace, but it will always be Minto Mall for some. Or just Minto. See you at Minto for coffee.
Oh what a great sight it was for us true believers. Simply magnificent. It felt so good to have our community hub back.
Yes, community hub. Because that's exactly what a good shopping centre is, and what Minto Mall stopped being as one store after another packed up and left.
Of course a shopping centre like Minto Mall is a bunch of retailers under the one roof, but for those who go there, it is a place where we meet friends for coffee, bump into people we haven't seen for a while, chat to the person behind the counter – the hub of the community.
And that's what we didn't have for many years as one by one, stores big and small closed their doors and fewer and fewer people would go to Minto Mall.
It's OK for you people in Eagle Vale, Ingleburn, Casula, Moorebank and Glen Alpine, your community hub was there for you. But if you lived around Minto or Leumeah or Kentlyn, your hub was falling apart and disappearing before your very eyes.
The final nail to the coffin was delivered when Coles closed down in 2012 and the last big store left standing was the small Woolies grocery store called Food for Less, which also leaked during wet weather and you had to skip over buckets to get access to the icecream fridge up the back.
So as you walked in, the last few stores which kept the Minto Mall fires burning included Raissis Hair Fashions, on the right of the main entrance, the bakery, a barber across from it, a chemist and the kebab fast food outlet in the food court. These people deserve a community service medal.
The first nail came when K-mart shocked everyone by announcing they would be leaving. This was the equivalent of an earthquake, and the reaction, others following suit in the weeks, months and years ahead, were the aftershocks.
Then Australia Post left, which was another major blow, followed by the butcher, and then, finally, the fish markets.
But it did not matter for some of us; we kept going there. Maybe we were in denial and just did not let go.
Personally, I tried to let go. Long before Food for Less closed down I decided I had better prepare for the day when the entire complex would close down.
So I tried doing my shopping elsewhere. Macarthur Square first, and I remember feeling a little angry that my local shopping centre was going down the gurgler and was no longer there for me as my own little community hub.
Of course it's always lovely to go to "Mac Square" (as in,  where would Campbelltown people go if it wasn't there?) but it just didn't feel right for me for grocery shopping, so after a few times I switched to Campbelltown Mall.
That didn't last so it was then off to Ingleburn, to try Woolies, and later, Coles in Ingleburn Fair.
My last attempt was at Eagle Vale, and it was sort of OK, because I bumped into a few familiar faces, but when the news came through via the local media that Minto Mall had finally got new owners, I was ecstatic. I am sure I wasn't the only one, but every week I would have a bit of a peek at the refurbishment work to see how close they were going to completion. The reason I was there was that while I went somewhere else for my groceries shopping I still went to Minto for our fruit and veggies every week.
I could go on for ever about what went wrong at Minto Mall, but what would be the point?
All that matters to me is that our local community hub is back once again.
Welcome back Minto.