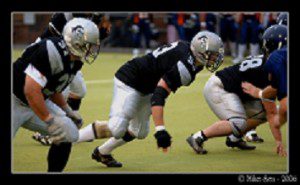 On the weekend the Wests Sydney Pirates needed a win from the last game of the regular season to finish as minor premiers for the first time since 1999.
They didn't disappoint.
Indeed, in beating North Sydney Rebels 38-0, the boys from western Sydney sent out a warning to the other teams in the finals that they are serious about winning this year's Sydney gridiron competition title.
But it was the Rebels who started with the ball and got a drive going all the way inside the Pirates' 30 yard line.
However, strong defence from the Pirates forced the Rebels to punt.
Pirates sustained a long, 11 play drive to open the scoring with a Ryan Coronel touchdown run. Ryan converted his own touchdown, to make the
score 8-0.
Pirates made short work of the Rebels next drive, getting the ball back quickly.
The west side boys then drove the field again, but there was a long break because the Rebels linebacker was injured and had to be taken to hospital in an ambulance.
The drive was capped with an Albert Bernard 15 yard touchdown catch to make the score 14-0.
When the Pirates got the ball back again the drive's exclamation mark was a Jason Ram 8 yard touchdown catch.
The score at half time was 22-0 and the Rebels were staring down the barrel of a big defeat.
The second half started with punts, fumbles and turnover on downs.
Then a Craig Russell 23 yard interception return for a touchdown got some
points for the Pirates, taking their lead to 30-0 and it was all over bar the shouting.
Craig Russell then got the Pirates into scoring position which resulted in a 13 yard Jason Ram touchdown catch and a Raneen Shamoon two point conversion for the final scoreline of 38-0.
The 2014 minor premier West Sydney Pirates will now have a rematch with the Sutherland Seahawks in the semi finals.
Last time they met, the Pirates got away with a narrow 34-30 win at Craik Park, Austral. But the Pirates will need to lift their game to get over the fast Seahawks.
The game will kick off this Saturday, December 6, at 6pm at 5 Sports Endeavour High school, with the earlier semi final game at 3pm, the Sydney University Lions taking on UTS Gators.