Casula Powerhouse Arts Centre last Friday launched two new interesting exhibitions, Mind the Gap and Different Strokes.
Both will be open to the public for free until January 25 next year.
While Different Strokes explores the relationship between drawing and sculpture, Mind the Gap is one of Casula Powerhouse Arts Centre's most ambitious projects, inviting five contemporary artists to work with the Casula model train group.
The artists and the model train club have collaborated to build artworks that model trains will travel through.
Model train layouts usually aim to replicate in intricate detail natural landscape and architecture as realistically as possible.
The artists taking part have each coincidentally proposed fantastical worlds that are far removed from traditional model train scenery including an internal landscape of the body, a speculative future Utopia, a Baroque inspired dreamscape, a ghost train and a love train.
This project merges two disparate communities and their creative worlds.
One of the very few parameters for this project is that a working model train will travel through the work, allowing artists and rail fans to share ideas and skills with spectacular and innovative results.
Artists taking part in Mind the Gap: Sarah crowEST, Emily Hunt, David Lawrey and Jaki Middleton, Owen Leong, Clare Thackway and Gregory Hodge.
On the other hand, what you will discover in the Different Strokes exhibition is an examination of the relationship between drawing and sculpture.
On the surface, the immediate and intimate nature of drawing seems to have no relationship with sculpture, which operates by occupying the viewer's physical space.
Drawing often plays the role of the introvert and sculpture the extrovert.
But this group of contemporary artists in Different Strokes tread the fine line between the two disciplines.
They include Koji Ryui, with HAVE A NICE DAY (Bachelors) (detail), 2013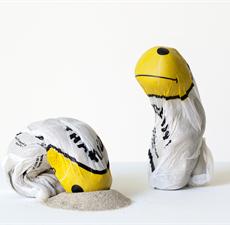 unfired clay, polyethylene bags [pictured at left];
Kenzee Patterson, White guy, 2011, CCA-treated spotted gum, retro reflectors, galvanised clouts and cap;
Karena Keys, We'll Float #1, 2011, acrylic paint, tissue paper and cotton;
Michelle Ussher, Camilla, 2014, glazed porcelain, epoxy putty and steel.