One of my internet passwords is weststigers2030 and there's a reason for the date.
No need to beat about the bush: it's the date I believe the club with half of one foot in Macarthur may finally win an NRL premiership.
But the crystal ball also shows that the name has been changed to Macarthur Tigers, who are based here in the outer South Western Sydney region.
It's not very clear when that happened, but by squinting a little I think the crystal ball says 2025.
Which makes sense – the 20th anniversary of the 2005 NRL premiership.
No doubt fed up with the never ending mediocrity that followed that wonderful victory over the Cowboys in the grand final of '05, the people who call the shots finally did what they should have done in 2006.
Last night victorious Panthers players were sending greetings to the people of St Marys and Mt Druitt – the folk they represent in the NRL. The people they bleed for every time they run on the field.
This is a concept that is foreign to the Wests Tigers players of the past decade or more.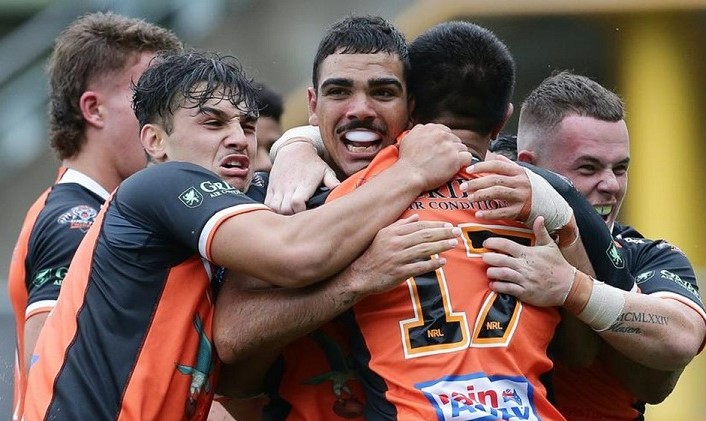 Play for someone? What is that when you're a bunch of nomads with multiple "home'' grounds, including one in the heart of one of your arch enemies, Parramatta.
The mob who run the Wests Tigers front office will protest they decisions like that, to play in stadiums that help the club make money, is good for the finances.
Yes, the financial side is important, but if that's all you focus on premiership glory will never be within reach.
Penrith, who are based at Penrith and have Penrith in their name, Penrith Panthers, are proof that an NRL club based on the edge of the metro area can be successful.
Looking at their roster, the Penrith Panthers are going to be successful for a long, long time.
Yes, I'm thinking the dynasty word, and I am as jealous as hell sitting here in Campbelltown wondering what may have been if the Wests Tigers had been completely based here instead of some nondescript inner city suburb nobody's ever heard of.
I have no doubt whatsoever that the Macarthur Tigers would be contenders in the NRL year after year.
Tell me I'm dreaming, but when they win the grand final in 2030 the players will be sending greetings to their fans in Edmondson Park, Ingleburn, Rosemeadow, Mt Annan, Oran Park and Picton.
That's what the crystal ball's showing.