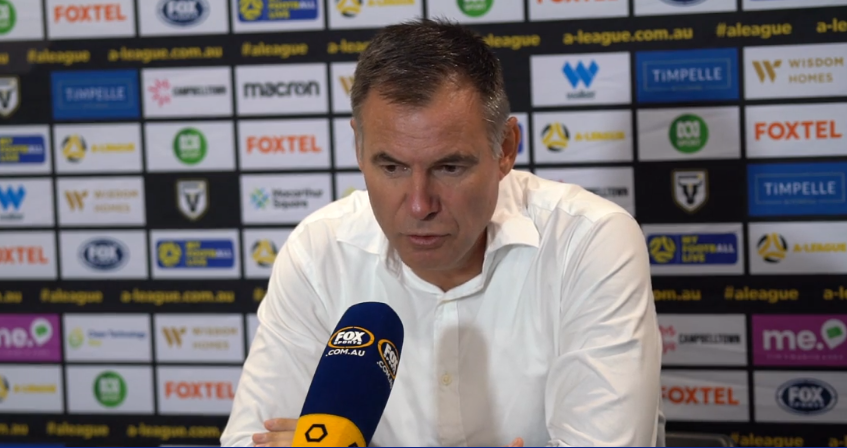 Nobody will want more to see the Macarthur FC record their first victory at home when they host Adelaide United tonight at Campbelltown Stadium than Bulls head coach Ante Milicic.
While he had done a remarkable job so far with a brand new team, the only fly in the ointment has been the lack of success at home.
Four games at Campbelltown Stadium have produced two draws and two defeats, and Milicic, pictured above, must be just about fed up being asked about it at post match media conferences.
Curiously, the Bulls boasts a 100 percent win record from their three away matches, but nobody seems to want to write a headline about that little statistic.
If they can find to break their duck, Milicic will be the happiest man in Campbelltown.
But it will be a very difficult task getting that monkey off the coach's back, because tonight's clash is the third match the Bulls will have played in less than a week.
Last Saturday they played out a thrilling 2-2 draw at Campbelltown Stadium with Western Sydney Wanderers, followed by a 2-0 away win over Brisbane Roar on Tuesday night.
Speaking to the media yesterday, Milicic conceded that he would have to make some personnel changes to ensure his team was fit and healthy.
"We'll wait till an hour, hour and a half before the game and make a couple of changes to the starting 11 against Adelaide,'' he said.
"Our home record not looking good, but we get another opportunity to rectify that against Adelaide,'' Milicic said in response to another question about the home ground record so far.
"But we go into every game looking for a win and we'll take the game to the opposition,'' Milicic said.
The game will kick off at 7.05pm.
Macarthur FC squad: 1. Adam Federici, 2. Jake Mcging, 3. Antony Golec, 4. Benat Etxebarria, 5. Mark Milligan (C), 6. Aleksandar Jovanovic, 7. Ivan Franjic, 8. Denis Genreau, 10. Loic Puyo, 11. Tommy Oar, 12. James Meredith, 14. Moudi Najjar 15. Aleksandar Susnjar, 16. Nick Suman (goalkeeper), 21. Jake Hollman, 23. Walter Scott, 27. Matt Derbyshire, 29. Antonis Martis, 31. Lachlan Rose, 33. Markel Susaeta