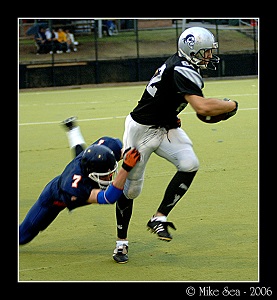 The West Sydney Pirates are on top of the Sydney gridiron competition after notching their 10th win of the season against the Central Coast Sharks.
But it was a lacklustre Pirate outfit which finally prevailed against an enthusiastic Sharks team who didn't give up till the final whistle.
Best for the Pirates were Dean Toskoski, Alert Barnard and Shannon Lynch, who was playing out of position on defence but did what he could for the team.
The Sharks, who came into the match with a 3-7 record, made it hard for the Pirates, in the end going down fairly narrowly, 22-14.
The Austral-based Pirates, who are now 10-1, head to the Shire to take on the Rebels this Saturday, November 29, with a 6pm start.
Pirates started on defence first and promptly got the ball back. They didn't do anything with the ball on their opening drive and were forced to punt, a trend the Pirates need to get out of in time for the approaching play-offs.
But with defence leading the way, the Pirates got the ball back, drove the field and capped it with a Reneen Shamoon touchdown run to open the scoring.
When they scored soon after with an Albert Bernard touchdown and an Ash Best conversion to go 14-0 up, it looked like it was going to be an easy day at the office.
Pirates got the ball back two minute before halftime, executed their hurry-up offence, but the Sharks clamped down when backed up near their own end zone and then forced an interception on 4th down to end the half.
The Pirates opened the second half in style with their first play from scrimmaging being a Ryan Coronel 58 yard touchdown gallop. Adding two points was Pirates all time receiving leader, Dean Toskoski, taking the score to 22-0.
Which was the end of the scoring for the Pirates, who relaxed and allowed the Sharks to come back into the game.
Their first response was a touchdown of their own, to make it 22-6, and a long pass soon after resulted in a 91 yard touchdown. Following the conversion, the scoreboard read Pirates 22, Sharks 14.
Which was a bit of a wake up call for the Pirates defence, and which managed to rouse itself one more time to keep the Sharks at bay for the rest of the second half.