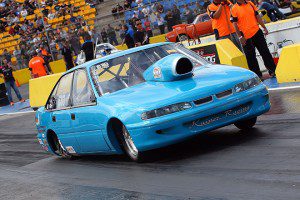 The first Australian Nationals to be held at Calder Park Raceway in 15 years was a roaring success with two days of big crowds, great racing and giant performances.
South west Sydney drivers did not figure in the list of winners of the most prestigious trophy in Australian Drag Racing, the ANDRA Gold Christmas Tree, but there were noteworthy performances in qualifying at the start of the weekend.
Austral's John Kuiper in Super Stock was the Standout performance of the day in Summit Racing Equipment Sportsman Series qualifying.
Kuiper surpassed both the quarter mile elapsed time and speed records for the C/G class.
He top qualified by going 0.58 seconds under the National C/G index with a 7.952 ET while reaching 178.40 mph to have a chance at resetting both records by backing up during eliminations.
"We haven't raced here for a long time but we've been campaigning the car for quite a while," said Kuiper.
"Sydney has been a kinder track, this has been challenging but we've got nothing to lose, we qualified and we're at the top.
[social_quote duplicate="no" align="default"]"We didn't expect go any faster on that last pass but when it settled and left the start line I thought well; let's see how fast it will go. [/social_quote]
"We're pretty happy with that, there are a couple of increments we can improve on. The index game is very tough and any class that is here and goes fast, it's an effort for everybody. It'll be good and if I can save the index but if we go fast to win, we go fast to win."
Natalie Bishop, of Orangeville was the other local to shine at Calder over the weekend.
In Summit Racing Equipment Junior Dragster, the lead changed with each passing round as first Joel Burns occupied top, then Mikey Naylor after two qualifiers.
But ultimately it was Natalie Bishop, who continued her winning form from a week ago in Portland, securing the number 1 with an 8.024 ET. Mikey Naylor dropped to second as a result followed by Joel Burns, defending Champion Eden Ward and Kelly Donnelly in fifth.