Susanne Jones has lived in Campbelltown all her life.
She also has a passion for labyrinths.
This morning she joined MP Greg Warren and Cr Meg Oates to mark the completion of work on Campbelltown's very own labyrinth at Hurley Park.
Ms Jones, who lives near the park, came up with the idea for a labyrinth as a way to bring the local community together.
She approached Campbelltown Council and Mr Warren to help fund her vision for a local labyrinth, and she says they were both supportive of the idea.
Ms Jones designed the Hurley Park labyrinth herself, with a little help from a family member who is an architect, as well as other members of the community.
"It was a real community effort," she told the South West Voice in Macarthur at this morning's launch of the labyrinth.
"I am very happy with the result,'' said Ms Jones, who plans to organise community walks on the labyrinth on the second Saturday of every month from 9.30am.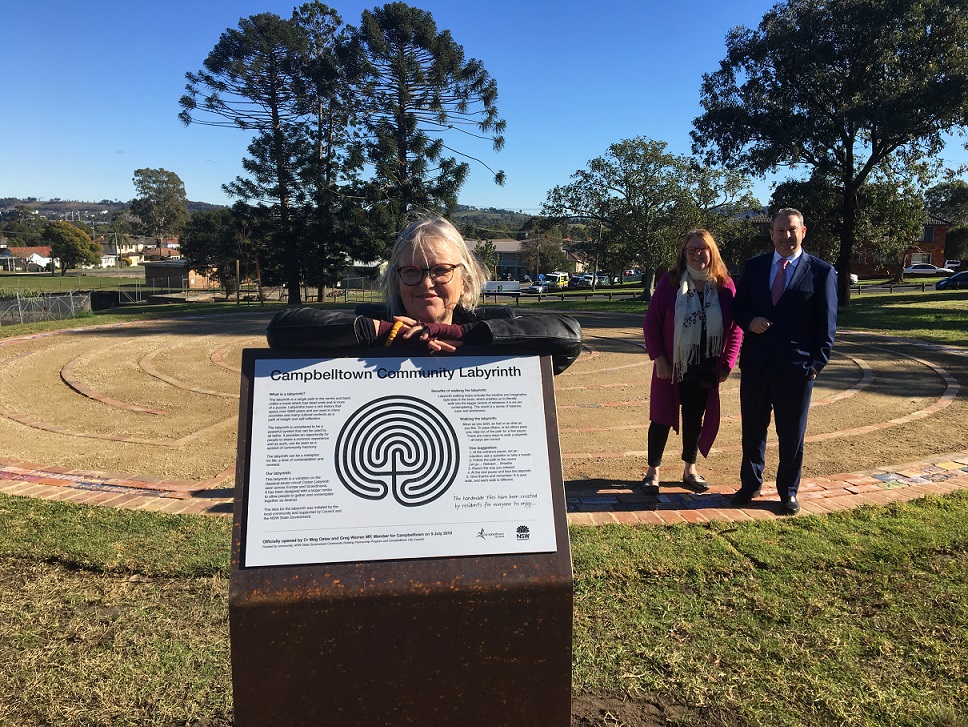 The labyrinth is located on a rise overlooking one of Campbelltown's most important heritage structures: the town's first water reservoir and cattle tanks.
Mr Warren said it was apt an ancient concept such as a labyrinth was built in close proximity to local heritage.
The reservoir was built almost 200 years ago and supplied Campbelltown's water needs until the late 1880s.
"I was very happy to help this wonderful community project when I was asked to,'' Mr Warren said.
Unlike a maze which is more of a puzzle, labyrinths are built without walls and flat on the ground and feature a pathway to the centre and back for quiet reflection and to exercise the right side of the brain.
Campbelltown's community labyrinth is made from brick in a classical seven circuit Cretan design, a variation of the designs seen across Europe and Scandinavia.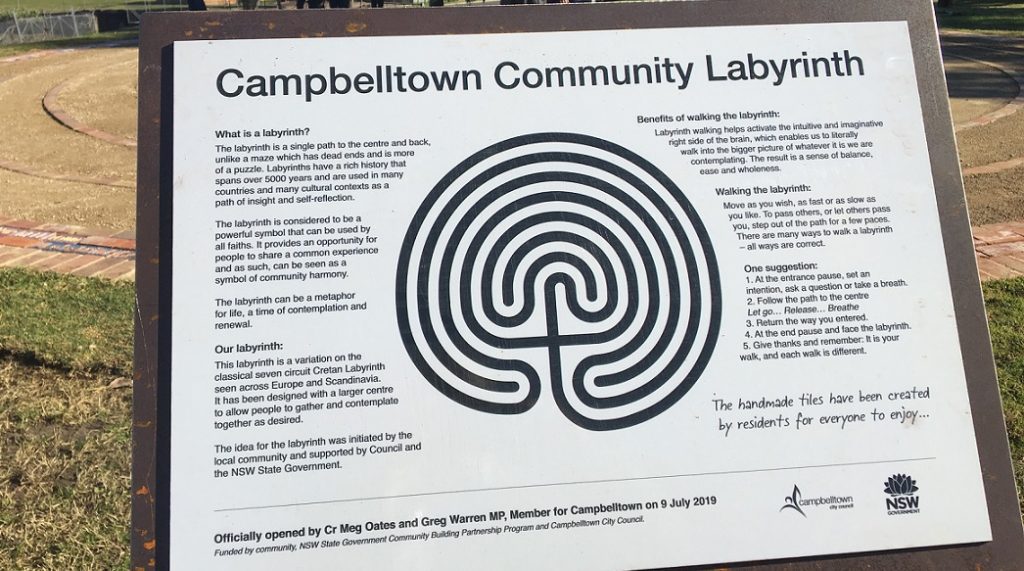 The labyrinth has a 14 metre diameter and features more than 270 colourful ceramic tiles around its perimeter.
The tiles were made by community members between the ages of three and 96 at a series of workshops at Campbelltown Arts Centre, Tharawal Aboriginal Corporation, The Meditation Space and Bar Centrale.
With the nearest public labyrinths located at Sydney's Centennial Parklands and the Children's Hospital at Westmead, the Campbelltown Community Labyrinth could become a bit of a tourist attraction.
It cost $34,000 to build. Of that, $5,000 came from community fundraising organised by Ms Jones and $5,000 from Mr Warren, through the NSW Community Building Partnership program, and the remaining funds from Campbelltown Council.