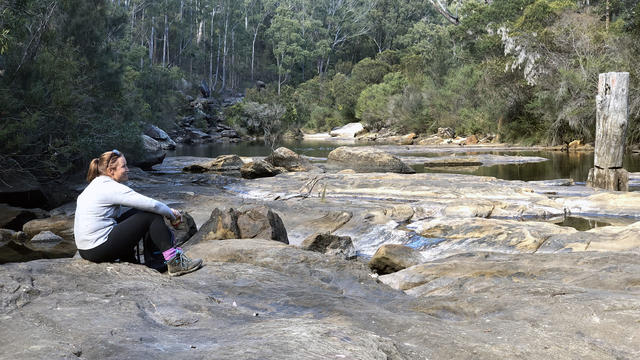 Did you know that the Georges River, from Appin to Botany Bay, is around 100 kilometres long.
And did you also know that the water is fresh above Liverpool Weir and is tidal and saltier below the weir down to Botany Bay.
The Georges River catchment is home to almost 1.4 million people, 454 species of fauna (including aquatic and land animals), 30 riparian or riverside vegetation communities and 29 endangered ecological communities.
But relatively few of us take advantage of having an urban river very close to where we live.
Maybe this could change a little now that there is an interactive map available to show us the best spots to walk, cycle, swim, fish and boat along the Georges River.
It's interactive because we're all invited to contribute our favourite walks and lookouts.
"The Georges River is over 100 km long so it can be difficult to know where the best spots are to enjoy the river," says Georges Riverkeeper chairman Geoff Shelton.
"The digital map is an easy way to find cycle tracks, nature walks, swimming spots and other facilities such as playgrounds and toilets, as well as finding out more about the vegetation and geography of the river," he said.
"We wanted to showcase the recreation and relaxation opportunities the Georges River has to offer.
"It is estimated that the Georges River provides over $2 billion of ecosystem services each year."
Ecosystem services are the benefits that humans freely obtain from the natural environment.
"There is a clear link between access to natural resources such as the Georges River and the liveability of an area and the health and wellbeing of its people," says Mr Shelton, who is a Liverpool City councillor.
Georges Riverkeeper is contributing to making the urban area more liveable through the protection and regeneration of the natural environment of the river.
The map was created for the Georges Riverkeeper website with input from Georges Riverkeeper's eight member councils including Bayside Council, City of Canterbury Bankstown, Campbelltown City Council, Fairfield City Council, Georges River Council, Liverpool City Council, Sutherland Shire Council and Wollondilly Shire Council.
Development of the map will be ongoing and Georges Riverkeeper is inviting residents to contribute, starting with your favourite walks and lookouts.
Visit the website with interactive maps at www.georgesriver.org.au
To suggest a walk, use an activity tracker on your phone or the Strava app to track your steps then email the gpx file to contact@georgesriver.org.au
Alternatively, email a screenshot of your walk route or the location of your favourite look out.