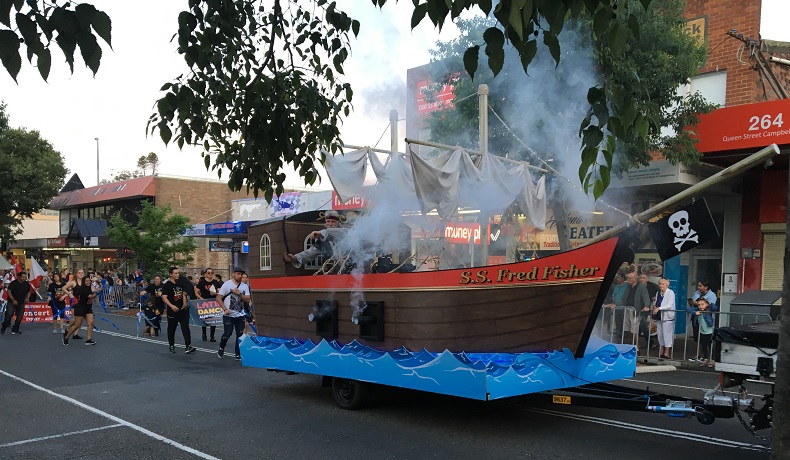 Campbelltown Council says it is looking to "re-define'' Fisher's Ghost Festival.
In a note to councillors from the acting director of the city lifestyles department, the aim of the exercise is to "create an opportunity to include a stronger focus on arts, culture, community pride, economic benefit and tourism''.
However there is no mention of the centrepiece of the festival, the parade down Queen Street, which has already been modified in recent years, including a new, twilight start.
Campbelltown residents will be asked to comment on what the festival should look like this year and into the future.
"As mentioned last year at the community events during Covid briefing, we will be looking to explore the option of re-defining the Festival of Fisher's Ghost program for 2021 and beyond,'' says the acting director, Destry Puia, in the note to councillors, emailed just after 2pm today.
"The festival has been running for 65 years and has had a number of events added and removed from the program during this time.
"As we move towards reimagining our city, we have identified this as a perfect synergy and opportunity to ensure the festival is current and that the events that are delivered as part of the program are strategically aligned with the direction of the city.
"We have not included the art award as part of this consultation as this program is part of the Campbelltown Arts Centre's ongoing artistic programming and is established and well received by the community and arts industry.
"To ensure our community have the opportunity to have their say on the festival, we will be conducting community consultation, commencing today.
"The survey will shortly be available on our Over to You page. Consultation will be open for two weeks and will close on Monday, May 3.''
Once the consultation period is completed a councillors' briefing presentation will be made with the outcome of the consultation along with suggested changes and ideas.