Ian Bailey reviews Eschalot at Berrima:
We found the charm of an old sandstone building, which has been the home of Eschalot for over 10 years, immediately inviting and relaxing. No outlandish decor. No polished concrete. Fireplaces ready if they should be required. Today (September 12) was cold in Berrima but it was not uncomfortable in the carpeted restaurant.
We were met by Eliza who is the partner of Richard Kemp and were shown to a quiet table next to a window overlooking the highway. Comfortable chairs at the white-clothed table felt right—professionally inviting and at the same time suggesting that this might be a place where the owners care about their clients. It is.
With time to relax and enjoy, Ann and I decided on 2 or 3 courses and 2 glasses of wine. Champagne Lanson to start was excellent and accompanied the first course for me which was a delicious dish of sweetbread with onion and a touch of fresh yarrow from the kitchen garden and also for the sourdough bread with the olive oil infused with balsamic. To awaken our appetites we had been served an amuse bouche of creamy potato and leak which was delicious if a tad salty.
Mains were Thirlmere Duck cooked two ways and a medium Beef fillet for madam. Both dishes had just enough onion, herb and sauced accompaniment to build the flavours and a side of sauteed vegetables provided perfect balance. Even though an added cost, the extra was worth it. With this course we drank a lovely soft local Pinot Noir from Cuttaway Hill. Wine is poured at the table.
Dessert seemed just too much at this point but the choice of a shared 3-cheese platter with appropriate crispbreads proved successful. We completed the meal with a very good coffee.
Eschalot has one hat (15.5/20) awarded by the Good Food Guide that it has held for 7 years. Eliza and Richard are very satisfied with the award as they feel it is sustainable and always possible to achieve the level of quality in food and service it suggests. We would certainly agree that they do.
Bonus: The exquisite charcoal drawings by Eliza (done in her spare time?) are a treat for the eye, and they are for sale.
ESCHALOT Restaurant: 24 Old Hume Highway Berrima NSW 2577. Average cost without drinks is about $75 pp. Licensed, BYO certain days. Chef: Jerad Dunnohew.P: 4877 1977. E: enquiries@eschalot.com.au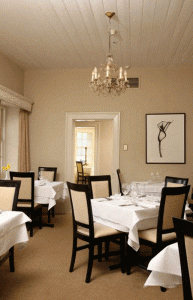 *Ian G Bailey, PO  Box 364 Liverpool NSW 2170, 0412 251 337 or ibails@bigpond.net.au