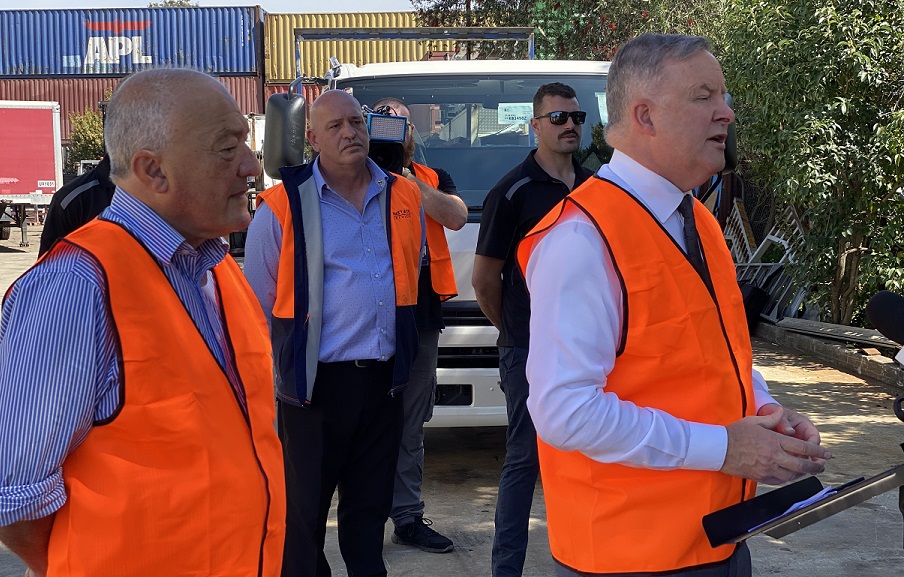 Our man in Canberra, Dr Mike Freelander, reckons Macarthur is a tremendous region to live in and raise a family, establish a business or enjoy the natural beauty of our environment.
On the down side, he says, the area is constantly neglected by the Morrison Government.
The Federal Member for Macarthur, pictured above with Labor leader Anthony Albanese in a local factory, says the region deserve much better.
For a start, it requires greater investment to match the growing population and demands placed on local services.
With an election due to be held by May, Dr Freelander has outlined the five priority areas that he will be championing this year.
Better infrastructure for Macarthur, particularly public transport in our region.
"A Leppington rail line to Western Sydney Airport would have tremendous economic and social benefits to Macarthur residents, and that it is an urgent priority,'' says Dr Freelander.
Second on his priority list is focus on making sure Macarthur residents have equitable access to affordable health care.
"I also want to ensure that professionals and staff working in the health care sector receive the support and resources they require,'' he said.
Dr Freelander believes dental care deserves to be included as part of Medicare.
"I will continue to work with my Federal Labor colleagues to establish this as a healthcare priority,'' he said.
Fourth on the list is making sure that no Australian child is left behind and can be educated to the best of their abilities.
"Education is a fundamental right of every child,'' says Dr Freelander.
Finally, fighting for Macarthur small businesses to ensure that they get the support they need to prosper and continue to employ locally and provide support for our community.
Dr Freelander believes that small business is the cornerstone of our community.
"This list is not complete and I will continue to add to it, as there are many issues and concerns that our residents have, and I encourage anyone who would like to raise these with me to do so by contacting my office via email at mike.freelander.mp@aph.gov.au.''