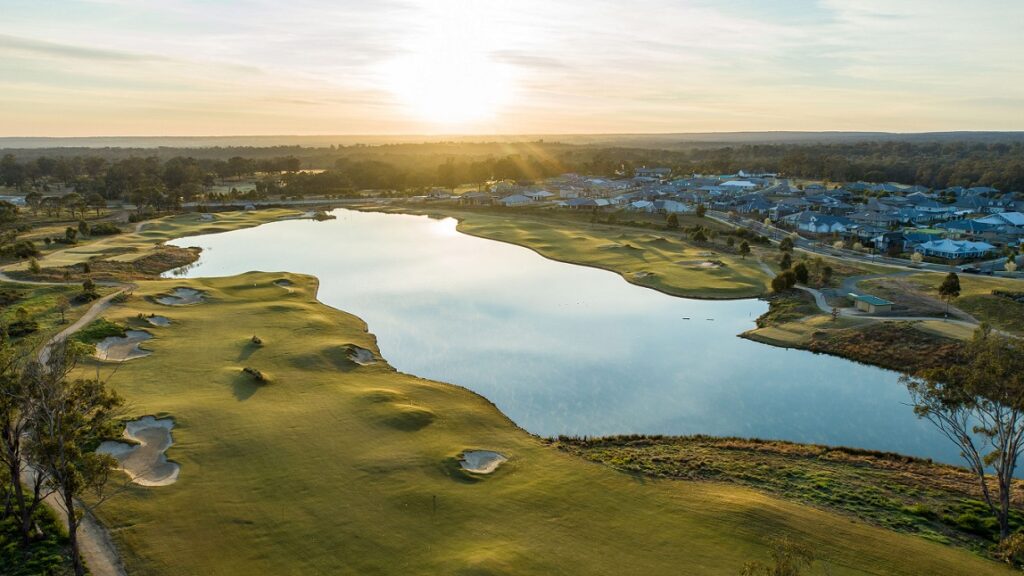 The Bingara Gorge residential development near Wilton has taken a giant stride towards completion by 2024.
Metro Property Group has purchased two additional prime assets from Lendlease spanning 90 hectares, including the partly finished 18-hole championship golf course designed by former PGA professional Graham Marsh.
The purchase also include the 4760 sqm parcel of land set aside for a country club as well as land for parking.
The newly acquired assets follow Metro's purchase of the balance of development approved land in Bingara Gorge in June 2021 from Lendlease.
It was one of the country's biggest acquisitions in the residential land market last year.
Following launch of the project in 2008, Lendlease developed 900 land lots with the remaining 900 to be developed by Metro.
"Metro purchased these important community assets to complete the vision for Bingara Gorge to create a world class residential estate featuring a Graham Marsh 18-hole golf course and club facilities,'' says Luke Hartman, of Metro Property Development.
"These newly acquired assets will complement the existing state-of-the-art community facilities in Bingara Gorge, further adding value for our residents in delivering a livable and connected community.
"Bingara Gorge is strategically positioned to capitalise on the burgeoning South West Growth Corridor with multi-billion dollar investment in the region from the private sector, local and federal governments.
"Demand is outstripping supply for land in this area.''
All 18 golf holes have been constructed, however only the back nine are currently in play.
Construction will start on a golf bridge to link the front nine and back nine holes in the first half of 2022 with completion by late 2022, enabling all holes to be open for play.
The Feros Group will run the contemporary country club, which will offer a restaurant and bar, outdoor bar area and internal function space.
The development application is expected to be lodged in March.
Bingara Gorge is a 450-hectare site that will comprise 1800 homes when completed in 2024.
Over 200 hectares of open spaces, a golf course, playgrounds, tennis courts, walk and cycle paths, leisure centre, retail shops, childcare and primary school will feature in the development.
As part of Wilton's 2040 vision according to the NSW Department of Planning and Environment, A Plan for the Wilton Growth Area, state and federal governments are planning to invest billions of dollars into the region.