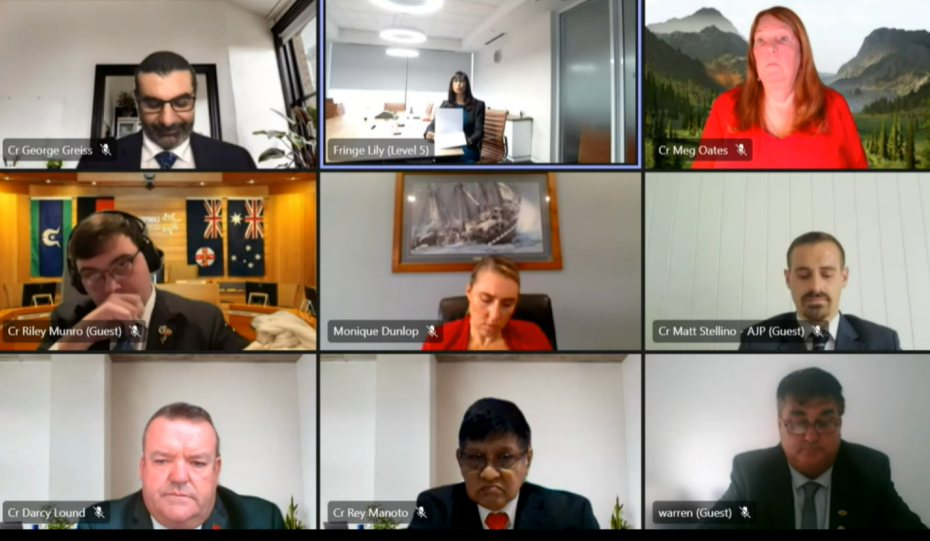 A new era is under way at Campbelltown Council, which has just elected a Liberal Party mayor.
George Greiss, who has been on council since 2008, narrowly defeated Labor's George Brticevic 8-7 when the 15 councillors met remotely tonight to elect a new mayor in the wake of the December 4 local government elections.
The writing was on the wall for Cr Brticevic when general manager Lindy Deitz announced that Animal Justice Party councillor Matt Stellino had seconded the mayoral nomination of Cr Greiss, pictured above (top, left hand corner).
With Labor holding seven seats out of 15, the other eight needed to stick together to defeat Labor, which is exactly what happened tonight.
Community Voice councillor Masud Khalil, Cr Stellino, and Community First councillor Josh Cotter joined forces with the four Liberal Party councillors and Cr Warren Morrison to give Cr Greiss an historic victory.
Cr Brticevic held the mayoral reins for more than five years and there was a mood for change among the new councillors and elsewhere.
The feeling was that he had a decent go at it, and someone else deserved an opportunity to lead Campbelltown.
Indeed, that mood for change is believed to be behind reports he was challenged inside the Labor caucus for the mayoral candidacy.
Cr Brticevic narrowly defeated Cr Darcy Lound 4-3 to become the party's mayoral candidate, but in the end it came to nothing.
The change at the top was not confined to the mayor, with the deputy's post in the hands of a new face, Cr Warren Morrison, who won a second term on December 4.
He defeated Labor's candidate, veteran councillor Meg Oates, by the same margin, 8-7, with the independents and the Liberal Party again sticking together.
Mayor George Greiss thanked Campbelltown voters and the councillors who elected him to the top post.
"I will do, with your support, the best job I can for the people of Campbelltown,'' he said.