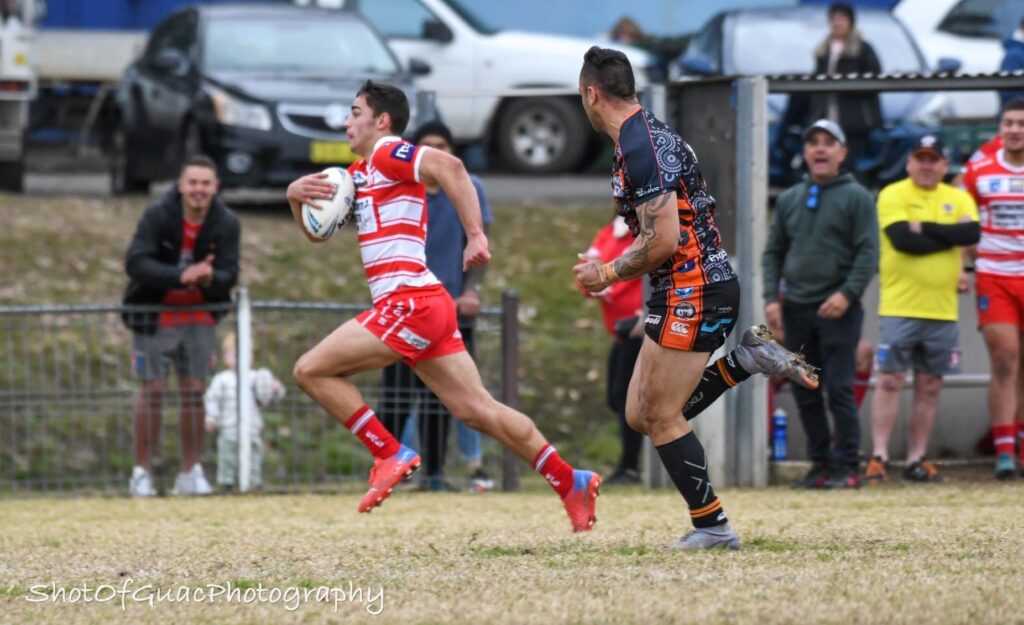 Camden Rams continue to lead the Macarthur Conference – Group 6 premiership after 16 rounds with 22 points, four clear of second placed East Campbelltown Eagles.
Both of the top sides recorded victories in round 16, with the Rams piling more than 50 points on newcomers Campbelltown Collegians, who were competitive for much of the game.
But the more experienced Rams got on top in the second half to run away with the win.
East Campbelltown, still without a home ground, were too strong for the Oaks Tigers in a match played at Warragamba, pictured above.
A lot of their loyal fans made the trek to the west and made sure their players knew it for the entire match, which finished with the scoreboard showing 46-28 in favour of the high flying Eagles.
But it's nowhere near a two horse race just yet as we approach the pointy end of the 2022 premiership.
Any of the other sides in contention for a semis spot must still be considered a chance to win the big one in September.
Oakdale Workers are currently third on the ladder with 17 points, followed by the Campbelltown City Kangaroos on 15 points.
The Kangaroos had a bye this round.
Picton Magpies and the Oaks Tigers share fifth spot with 14 points each and look set for a tooth and nail fight for the last semis spot with two rounds remaining.
There are two sides below them, both on 11 points, the Lions and the Roosters, who will be starting to think about how to improve next season.
Collegians, who can hold their heads high in their first season back in the top grade, occupy last spot on the ladder.
ROUND 16 RESULTS:
Camden Rams 56 d Campbelltown Collegians 12 at Kirkham Park
Mittagong Lions 22 Picton Magpies 34 at Mittagong Sports Ground
Oakdale workers 14 d Thirlmere Roosters 10 at Sid Sharpe Oval
Oaks Tigers 28 East Campbelltown Eagles 46 at Warragamba Sportsground
NEXT ROUND – 3PM, SUNDAY, AUGUST 7:
Campbelltown Collegians v East Campbelltown Eagles at Bradbury Oval
Campbelltown City Kangaroos v Oakdale Workers at Fullwood Reserve
Thirlmere Roosters v Oaks Tigers at Thirlmere Sports Ground
Picton Magpies v Camden Rams at Victoria Park