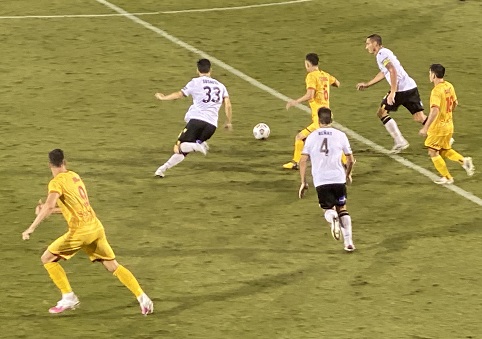 It took them five matches to achieve it, but when Macarthur FC recorded their first win at home last night with a 4-0 drubbing of Adelaide United it made it a memorable night at Campbelltown Stadium.
The historic first win came at the end of a big night for the club when NSW Premier Gladys Berejiklian walked out on the playing field before kick off and stood between the referees.
The ground announcer told the crowd the premier had accepted a club invitation to become the Bulls' number one ticket holder for the season.
In the meantime, the skies had opened up and the rain came down as Gladys left the field under an umbrella.
The Bulls dominated proceedings in the first half and should have been leading by at least two goals, but the ball just wouldn't go into the back of the net.
In the second half, Bulls striker Matt Derbyshire finally beat the keeper to make it 1-0, but fans had to stop celebrating while the dreaded VAR (video assistant referee) came into play and at one stage it looked like the goal would be disallowed.
But to the relief of Bulls fans the referee pointed to the centre line and it was Bulls leading 1-0 with 25 minutes remaining.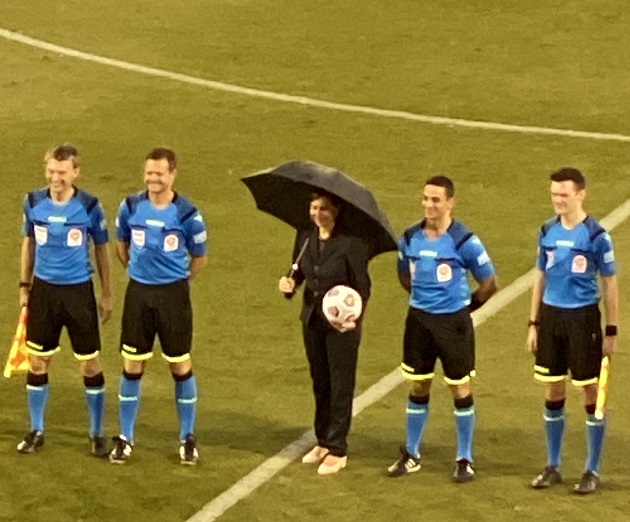 Eight minutes later Derbyshire pounced again to make it 2-0.
A 2-0 scoreline in football makes everyone nervous, and it was no different at Campbelltown as home fans held their breath to see if Adelaide would strike back.
But eight minutes from full time captain Mark Milligan somehow found himself with the ball and only the keeper to beat.
"Millsy'' kept his cool and slotted the ball into the back of the net and the fans went wild, knowing that victory was theirs – the first ever at Campbelltown Stadium.
And just when they thought that was it, the Bulls charged downfield again and opened up the Adelaide defence like a tin can.
And who was there to bag his third for the night but Derbyshire.
It was 4-0 and the monkey was off the back of Macarthur FC head coach Ante Milicic, who told the media afterwards he hadn't lost any sleep over it.
The win puts the Bulls in second position on the ladder with 14 premiership points.
Next weekend they may or may not be travelling to Victoria to take on Western United, depending on the lockdown situation down south.
A week later they are scheduled to take on Sydney Fc at Kogarah.