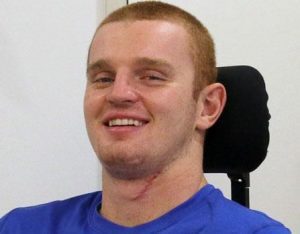 The NSW Police Force is getting behind the Rise For Alex Round this weekend with the Police Commissioner encouraging all officers to show support for injured rugby league player Alex McKinnon (pictured).
NSW Police Commissioner Andrew Scipione said the police force is steeped in rugby league tradition with many officers over the years playing the game at the highest level.
"As a rugby league fan, and like all supporters, I was saddened when I first heard of Alex's injury."
"But that has since changed to admiration for the never give up attitude Alex has displayed. It's inspirational."
"It's inspired me to challenge the men and women of the NSW Police Force, and for that matter, the general community, whether you are rugby league supporter or not, to get behind the Rise For Alex round."
"I'll be wearing my Rise For Alex wrist band this weekend, and so can you," Commissioner Scipione said.
On the 24 March this year Alex McKinnon suffered spinal damage while playing for the Newcastle Knights.
Round 19 of the National Rugby League competition is the Rise For Alex Round and to raise funds to support Alex in his ongoing recovery.
RiseForAlex Fund has been independently established to provide Alex with the ongoing financial and medical support he desperately needs.
The RiseForAlex Fund will provide Alex McKinnon with ongoing medical rehabilitation, housing suitable for his mobility and movement, essential physiotherapy equipment and many more necessities to ensure Alex is taken care of by the game he loves.
The NRL will be supporting the RiseForAlex Fund by turning Round 19 of the 2014 Telstra Premiership competition into the RiseForAlex Round. The NRL will also be donating one dollar to the RiseForAlex Fund for every fan who attends any match during Round 19.
For more information about Alex and the RiseForAlex Fund visit riseforalex.org.au