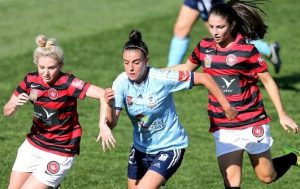 The Wanderers' women's league team will have a new coach in the new season, Norm Boardman.
His appointment was announced earlier today, July 17.
Having worked with the squad as assistant coach in the 2013/14 season, Boardman's familiarity of the club and players will merge well with his wealth of experience from his previous roles such as Football NSW Technical Director and Football Federation Australia National Community Coach Education Manager.
Wanderers CEO John Tsatsimas said the appointment of Boardman is testament to Wanderers commitment to women's football and the Westfield W-League.
"To have a coach of the calibre of Norm Boardman in charge of our Westfield W-League squad will bring a new level of performance and development to our team – one that sits within our overarching culture and philosophy," said Tsatsimas.
"As well as increasing the standard on the pitch, Boardman's experience and knowledge gained from some of the highest levels in football will nurture the next generation of young female players in Western Sydney.
Boardman said he was excited to take the reins and looked forward to his first match in charge of the Red and Black.
"With such a rich footballing history in Western Sydney we have a unique opportunity at the Wanderers to build what could be Australia's biggest stronghold for women's football," he said.
"I'm proud to be given the chance to continue to build on the club culture here at the Wanderers that will not only produce success on the field but will establish a pathway to ensure women's football in Western Sydney grows stronger and stronger for years to come.
"We aim to play a successful and entertaining brand that will make us highly competitive while at the same time inspiring girls throughout our region to take up football.
The Western Sydney Wanderers are in the process of finalising their squad for the Westfield W-League 2014/15 season.