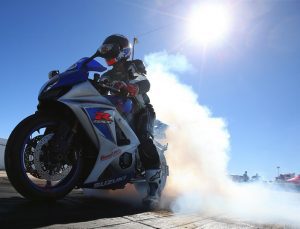 Summit Racing Equipment Sportsman Series Super Compact champion Matt Lisle is loving the simple life this season following a switch to modified bike.
A last minute decision, Lisle's original plan was to continue racing the familiar Mazda RX7 known as "Goldmember" until an incident at the Winternationals left the car bent out of shape.
Rather than sit around and wait for "Goldmember" to be repaired, he decided to jump on his Suzuki GSX-R1000 and go for a ride.
"I do enjoy racing the bikes, it's a completely different discipline and set of skills to learn but it's just simple way to go racing," says Lisle, who hails from our very own south west region of Sydney.
"No crew, no tools, almost no maintenance. It's a simple way to go racing and as it's my street bike there's not much to modify."
Lisle recently towed north to Darwin and Alice Springs to begin the ANDRA Drag Racing season, but it wasn't a smooth road trip. On the way he struck a kangaroo sending him off the side of the road damaging the trailer and the bike.
He eventually managed to get to Darwin and went on to win the Nitro Up North event before a round 1 elimination one week later to reigning modified bike champion Bryan Finn at the Desert Nationals in Alice Springs.
"The NT trip was good, I won in Darwin and got a reality check in Alice Springs, but had a ball and memories that will last forever,'' says Lisle.
"After getting back from Alice Springs I threw a cover over the bike and haven't looked at it, I just had to get back to work and get going.
"The trailer got a quick make over after we repaired it so it's good to go, and I've only just ordered fairings for the bike last week to replace all the broken ones.''
Lisle's plan for the season involves racing as many events as possible on the Suzuki.
But with his good fortune in Darwin he may reach a point where if he obtains the 300-point cap in Modified Bike it will afford him the opportunity to focus on racing "Goldmember" in Super Compact/Super Comp for the chance at two championship trees.
"I will see how it goes, it's still very early days in the championship so one step at a time,'' he says.
"I probably focus my racing more on the car as the bar is set so high I'm always looking at what's happening here and overseas and I gauge our performance on a bigger scale.
[social_quote duplicate="no" align="default"]"Being the fastest or the best we can be is the goal and if someone else goes faster it just pushes me to try harder and think smarter. [/social_quote]
"But I haven't been to Mildura before so I'm eager to get there and see what it's like. I've only heard good things about the track and look forward racing there."
Qualifying for Round 3 of the Summit Racing Equipment Sportsman Series at Mildura Sunset Strip is on between 10am and 5pm this Saturday, October 22. Cut-throat elimination racing will be on from 11am to 4pm on the following day, Sunday, October 23.
For more information please visit the Mildura Sunset Strip website here.