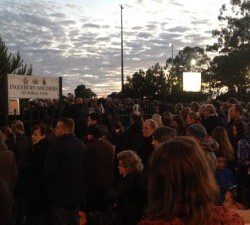 The big noise for the past two weeks has been the centenary of Anzac Day.
Quite right, too.
But there have been a few other noises on the side and one or two casualties.
Not forgetting of course that the first casualty of war is truth, and Gallipoli bears testimony to that.
It took a journalist, Rupert Murdoch's old man no less, Keith, and his famous letter, to wake up our British lords and masters of the time to the military disaster taking place in the Dardanelles.
One hundred years later, another journalist, a TV sports reporter this time, makes some appalling statements about Anzac Day and his employer, SBS, relieves him of his duties as well as his salary.
Right or wrong to sack him?
What about freedom of speech, isn't that what our boys died in Gallipoli for?
More freedom of speech fallout adds to the noise this week: Charlie Hebdo, the French magazine targeted by terrorists not long ago, is given a major prize by the PEN American Center.
The Freedom of Expression Courage award no less.
Fallout: Six PEN members, including our very own Peter Carey, announce that they will boycott the awards night.
Thirteen Hebdo staffers were killed when terrorists stormed the magazine offices in Paris in retaliation of cartoons lampooning Islam.
Any of this make sense?
One thing's for sure: it's a crazy world out there with a bonfire fed non stop by social media sites.
Here, in our wide, brown land, the Anzac centenary brought us all a little bit closer together.
United us.
Which is how you want to be as a country, because divided is a path where there are no winners.
As for freedom of expression, personally, thinking back over 40 years, I have censored myself many times. My first editor told me that the best bits about most news stories have to be left out for legal considerations or taste reasons. He was right on the money.
You have got to draw the line somewhere.
Freedom does not give you the right to say the first stupid thing that comes into your head.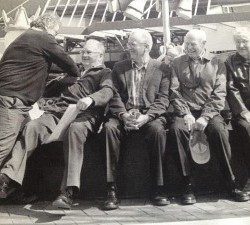 ♦ I like how Liverpool Council has set up an advisory committee and invited all former councillors and mayors to be on it. Not all of them have accepted but most have jumped on board. Out of the four seen here, including yours truly pretending to push Casey Conway into the Macquarie Mall fountain four years ago, three have gone on to the committee where they will even get voting rights, instead of just being observers. To the right of Casey are Col Harrington, Noel Short and Joe Durrant.
♦ There is no such thing as an advisory committee in Campbelltown so it remains to be seen if council made the right decision to allow apartments in the potentially iconic Panjo building on the corner of Campbelltown Road and Rose Payten Drive. But while Campbelltown Council – just like Liverpool –lacks the characters and giants of yesteryear – it is nonetheless made up of people who want the best for their patch of earth. And you can't ask for much more than that.
♦ As for Camden, interesting as that council is, I will leave that one for another time.