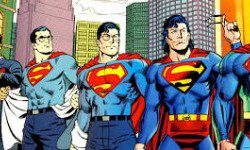 Pencils will be blazing for HJ Daley Library's annual Free Comic Book Day, with a superhero drawing workshop, live drawing and five minute sketches all forming part of the fun.
The Campbelltown library will host a range of activities for people of all ages this Saturday, May 2, between 10am and 3pm, as part of a worldwide celebration of comic books.
Held in partnership with KINGS Comics, Sydney's largest comic store, the Campbelltown event will also include free comic book giveaways, superhero storytime, a comic book sale, quidditch and more.
Mayor of Campbelltown, Cr Paul Lake, said the popular event was a great day out for the whole family.
"Free Comic Book Day forms part of our library's diverse program of events and activities and is a chance to celebrate the comic book art form more widely in the community," Cr Lake said.
"With a fantastic program of fun activities, including character meet and greets, you'll be channeling your inner superhero in no time."
For more information, phone 4645 4444 or visit www.campbelltown.nsw.gov.au/library
You can also visit the official Free Comic Book Day website at www.freecomicbookday.com