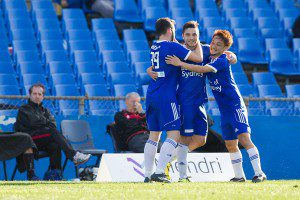 MARK STAVROULAKIS previews round 22 of the IGA NPL NSW Mens 1 matches involving south west teams:
Bonnyrigg White Eagles v Sydney Olympic, 3pm Sunday at Bonnyrigg Sports Centre
Bonnyrigg White Eagles have kept themselves in the mix while the whips have been cracking and others around them have faltered.
The same could be said for Sydney Olympic, who last week wrapped up a spot in the finals by beating Rockdale City.
Brian Brown will hope that Olympic rest on their laurels but that is unlikely as they are fighting Rockdale City for fourth place.
Bonnyrigg is a formidable outfit with plenty of big game experience and for them this is a mini grand-final, as they try to put themselves into the mix just in case Spartans slip up.
Olympic could crown a fantastic season by snaring fourth place, but they will have their work cut out against the White Eagles and they will nevertheless be very happy with their finals finish.
Sydney United 58 FC v Sutherland Sharks, 3pm Sunday at Sydney United Sports Centre
This is one of two games with little riding on it in round 22.
Sydney United 58 do have the Westfield FFA Cup to concentrate on however, after their 4-1 win at home to Far North Queensland Heat during the week.
It means that competition for places in Mark Rudan's side will be fierce and he will have been impressed by the performances of Domenico Tripodi and Matthew Bilic against the Heat.
It will be a big day for Luka Glavas who this week officially announced his retirement from football with Sydney United 58 FC honouring him for his services at the club.
Sutherland's hopes of finals football were dashed when Sydney Olympic beat Rockdale City Suns last weekend, so they will travel to Edensor Park looking to salvage pride, if nothing else.
Panni Nikas has struggled for goals recently, and the celebrated midfielder would love to find the back of the net one more time.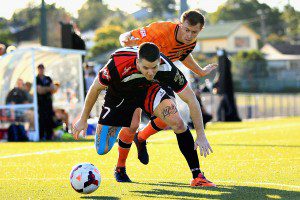 St George v Marconi Stallions, 3pm Sunday Venue Lilys Football Centre
St George and Marconi are last and second last respectively in the club championship, so this match takes on significant importance across all grades.
But it is in first grade where the most points are on offer. St George are condemned to the bottom of the ladder after they lost to Manly United last week, while Marconi are just ahead in the midfield pack.
The threat of relegation will certainly spice up a match that on paper doesn't look too special and the players will only be too aware of the pitfalls of not turning up for the final 90′ minutes of the year.
St George will be desperate to ensure that stint in Men's 1 isn't a brief one and Marconi will hope that their long history of top level competition continues into 2015.