On Saturday, October 10, Wests Group Macarthur venues will turn blue for 24 hours.
Food and beverage specials and other displays across all Wests venues will be in that colour for a special cause: Make Macarthur Blue day.
The 24 Hour Fight Against Cancer is behind Make Macarthur Blue, with the colour referring to the shirts currently worn by the charity's team members.
"We are thrilled to contribute to the incredible work of the 24 Hour Fight Against Cancer team which supports our local hospitals,'' says Wests Group Macarthur board chairman, Alan Buxton.
"This contribution reflects Wests' commitment to support the overall health and wellbeing of our residents and improved health services in the Macarthur community.''
Covid-19 has presented many challenges for all business and has had a serious impact on not for profit and registered charities within the region, including 24 Hour Fight Against Cancer.
However 24 Hour and their supporters are determined to raise as much as possible this year despite the difficult circumstances.
Fundraising activities include the Giant Raffle 2020 with $9,500 in prizes and Make Macarthur Blue day on October 10.
"Cancer is not in lockdown, and sadly many families in Macarthur are affected with, or will be affected, by cancer in the future, and therefore the important fundraising work must continue,'' says Warren Morrison, chairman of 24 Hour Fight Against Cancer.
"We may not be able to get together in the way we used to, but we can still get together as a community and make a huge difference.''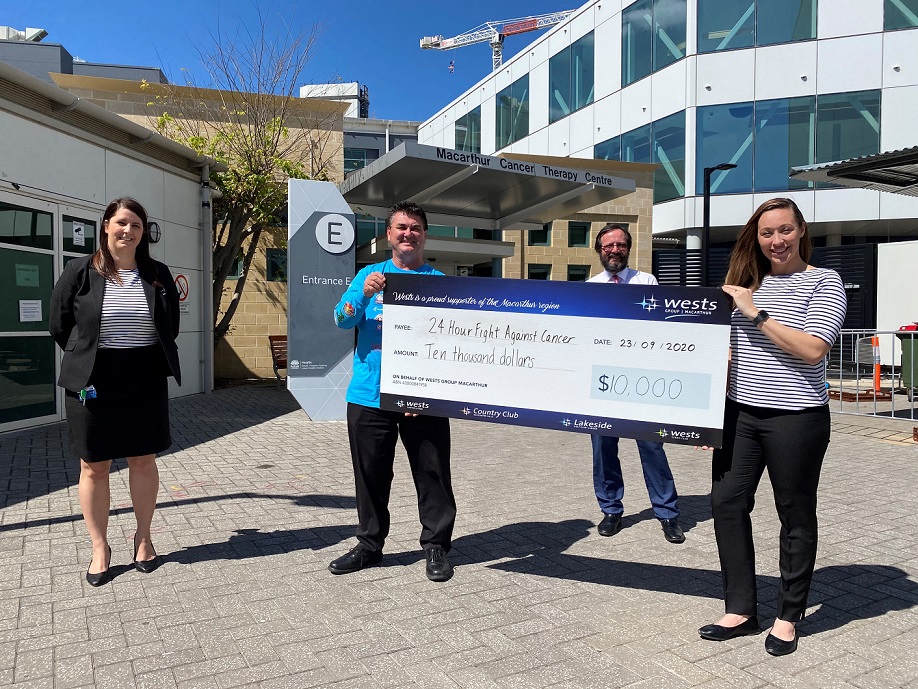 Wests Group Macarthur recently presented 24 Hour Fight Against Cancer a $10,000 donation.
The money is being used to purchase a blood centrifuge machine, as well as a freezer, which will allow doctors at the Macarthur Cancer Therapy Centre to monitor the blood of cancer patients receiving hormone treatment and to better manage their side effects.
"We are extremely grateful to the board of directors of Wests Group Macarthur for this very generous donation of $10,000,'' says Sue McGarrity, deputy chairperson of 24 Hour Fight Against Cancer.
For more information on Wests Group Macarthur community support endeavours visit www.westslc.com.au