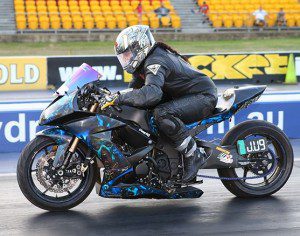 Wedding bells will be ringing at Sydney Dragway for Angela Phipps at the end of November.
But three weeks earlier it will be the familiar sound of engines revving when Phipps and her future husband, Matthew Hunt, take to the track in the Modified Bike ranks for Round 2 of the Summit Racing Equipment Sportsman Series.
In just her second year drag racing, the mother of three hadn't planned on entering the East Coast Nationals at Sydney Dragway (November 7-8) with the wedding on the horizon.
But thanks to fellow competitor Niki Zakrzewski and AuctionWorld.com.au coming on board as sponsor, Phipps will take to the track with an early wedding gift in her sights.
"I wasn't going to enter this year, due to the wedding being so close, but my guardian angel Niki Z from AuctionWorld.com.au has sponsored me into the event," said Phipps.
"I can't wait until it's here, I am planning to make it to the end even if I have to take out my husband to be.
"Matthew is returning this year to try and claim his second win, but it's not going to happen because I will be bringing the winnings home this time.
[social_quote duplicate="no" align="default"]"Matthew and I haven't had a chance yet to race each other, maybe it will be the East Coast Nationals where it's husband versus wife."[/social_quote]
Phipps first came into the sport in 2014 driving the family Ford Falcon at the off street Race 4 Real events at Sydney Dragway every Wednesday night.
Four wheels was fun, but her real passion lay on two wheels and soon Phipps could be seen riding her 125cc street bike regularly on Wednesday's before purchasing a Suzuki Hayabusa the same day she received her full motorcycle licence.
"That same week I was down at the drag strip on it. People thought I was nuts but continued to help me.
"I have had to make a few mods to my bike as I am only 5.5 feet tall and for some reason bikes are built for giants. I lowered links so I could touch the ground and added a custom four into one exhaust By S & R PRO, custom seat, rear sets so my feet could reach them and a power commander.
"Most of the mods I have done to the bike help with drag racing but I have adjusted most so I can ride on the road as well, – it's such a big bike for a short person."
Phipps will ride in a quality Modified Bike field at the East Coast Nationals November 7-8 at Sydney Dragway. The event will feature 11 additional Summit Racing Equipment Sportsman Series categories alongside the six professional ANDRA Drag Racing Series categories of Top Fuel, Top Alcohol, Top Doorslammer, Top Fuel Motorcycle, Pro Stock and Pro Stock Motorcycle.