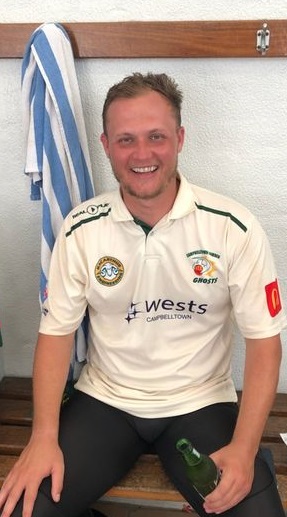 The first win of the season for Camden Campbelltown Ghosts cricket side was always going to come off the back of a superlative performance from one of their talented all-rounders.
It took six rounds to happen and it was Luke Webb who let loose both with the bat and the ball against Mosman over the past two Saturdays at Allan Border Oval.
After smashing 58 runs to help the Ghosts declare at 264 for the loss of seven wickets, Webb, pictured, was unstoppable with the ball in his hands on day two of the match.
He bowled 16 magnificent overs in taking seven wickets for 60 to guide the young Ghosts side to their first win of the season and six premiership points.
While Webb was magnificent, it has to be said that the Ghosts still have to find the killer instinct in order to finish oppositions off.
All year they've had teams on the ropes but then taken the foot off the pedal.
They did it again at Mosman on Saturday.
Thanks mainly to Webb they had the home side in big trouble early at 4 for 36.
There was another flurry of wickets as Mosman collapsed to be 8 for 89 and staring down the barrel of a big defeat.
But just when it looked like the Ghosts may have a chance to press for bonus points, the pressure came off and Mosman's ninth partnership produced 99 runs.
At 9 for 188 and still 76 runs behind Mosman were never going to win this one, but the Ghosts allowed them to hit another 49 runs and reach 237 before the game was over.
It was only a 27 run victory at the end, but a win's a win and it means the Ghosts are finally back on track in 2020-21.
They have a slightly harder assignment in round seven when they take on Bankstown in another two day match.
Fairfield Liverpool Lions (7/277) defeated Blacktown Mounties (158 and 5/119) to go to eighth spot on the ladder. The Lions host UNSW at Rosedale Oval from this Saturday.