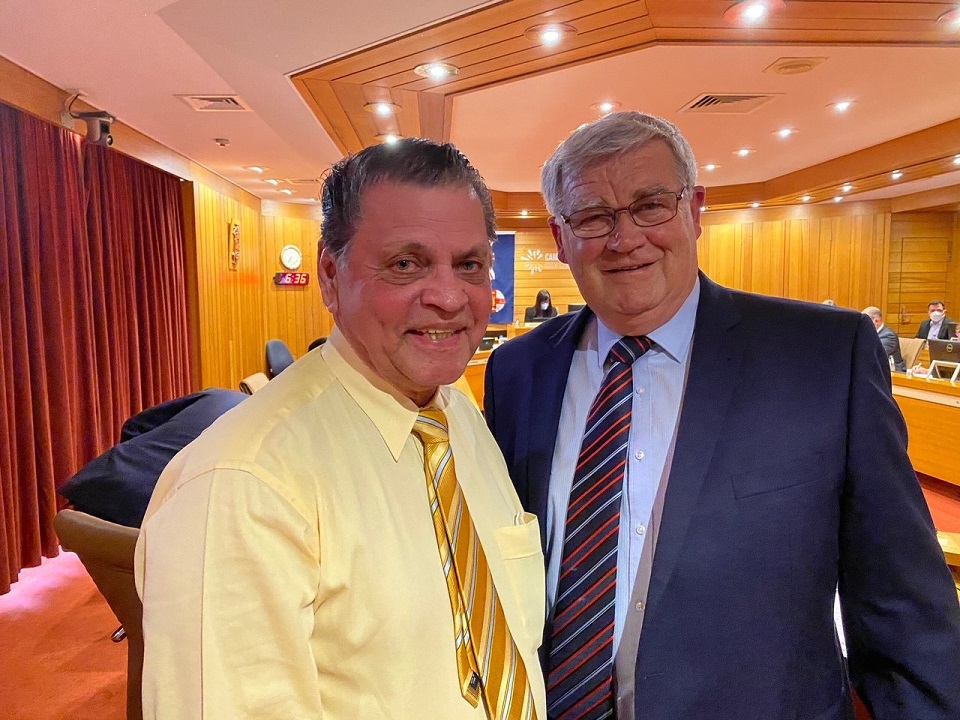 Can someone please check my pulse, asked an emotional Campbelltown councillor Bob Thompson at last night's council meeting.
His reaction to receiving a hug from council general manager Lindy Deitz summed up the final meeting of this very, very long term.
The previous election was in September 2016, but thanks to a global pandemic it stretched past four years when elections scheduled for September 2020 were postponed for a year.
Then they were postponed again for three months, stretching the term to five years and three months, with new elections due to be held on Saturday, December 4.
However, Bob Thompson, pictured above (left) with Cr Lake, won't be around because last night was his last as a councillor.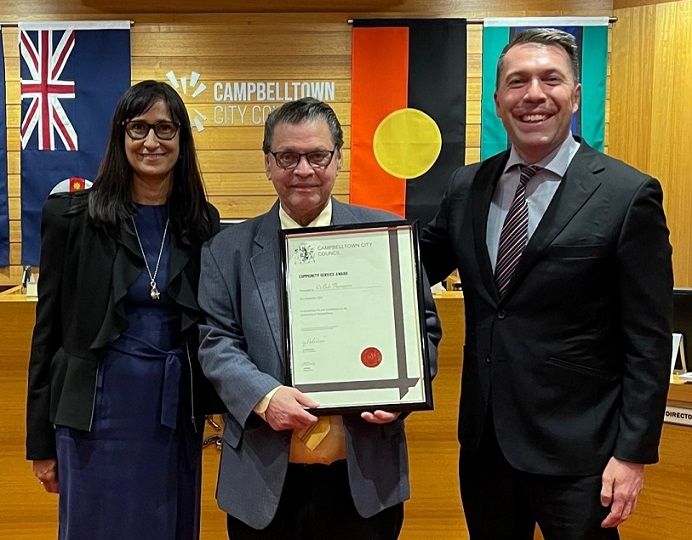 He was first elected in 1990, missed one term between 1995 and 1999 and has been there ever since.
A man of few words, Cr Thompson had a reputation as someone who did things for local residents, especially in his base at Ingleburn.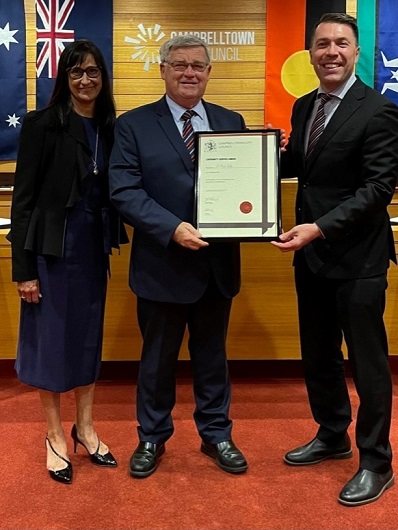 Both he and another retiring councillor, Paul Lake, were called up by the mayor of the past five years and three months, Labor's George Brticevic, to accept community service awards, pictured.
Two other retiring councillors, both representing the Liberal Party on the council, Ted Rowell and Ralph George, unfortunately could not make their farewell meeting.
However they and Lake and Thompson received warm praise from every single councillor last night, including Cr Brticevic.
And while Cr Thompson kept his speech short and sweet, as is his habit, "Lakey'' probably made one of his finest in 18 years on Campbelltown Council.
Cr Lake, who served as deputy mayor and mayor during his 18 years on council, said it was "privilege and an honour'' to have served on Campbelltown Council.
"I owe it all to Russell Matheson and also to another good friend, Chris Hayes,'' he said.
He said Matheson, the former mayor and federal MP, had taken him under his wing and "taught me the ropes when I first got elected in 2004''.
"Finally, I want to thank my family for their support during my time on council,'' Cr Lake said.
His gracious, generous speech received a vigorous round of applause from everyone in the chamber on this historic night.
A night that can only be described as a changing of the guard at Campbelltown Council.