A re-elected Baird Government will upgrade facilities at Moorebank High School as part of a $148 million program to upgrade 60 secondary schools across the State. Minister for Education Adrian Piccoli and the Liberal candidate for Holsworthy Melanie Gibbons visited Moorebank High School to make the $1 million announcement, part of the NSW Government's Innovative Education, Successful Students package.
Ms Gibbons said the NSW Liberals & Nationals Government has invested $14.7 in public school capital works and maintenance over the last four years in the Holsworthy area.  "To match the investment in improved facilities, schools will receive additional support to improve teaching practices and create better engagement with parents and students," Ms Gibbons said.
Walking and cycling will get a $273,000 boost if the government is re-elected on March 28. Minister for Transport Gladys Berejiklian, MP Melanie Gibbons and Liberal candidate for Liverpool Mazhar Hadid have announce details of the funding. Ms Berejiklian said $273,000 would be provided to Liverpool Council to deliver critical walking and cycling infrastructure to better connect residents with the city centre and start investigations for a new walking and cycling link across the Georges River.
Liverpool residents will benefit from:
• $170,000 to construct the final stretch of cycleway along Elizabeth and Castlereagh Street, Liverpool
• $50,000 for a feasibility study into a future walking and cycling connection across the Georges River
• $27,700 to design a new cycleway to make it easier for residents to connect with Liverpool City Centre
• $25,000 for Council to develop a new bike plan – reviewing walking and cycle needs for the area, identifying missing links and prioritising future infrastructure funding.
 MP Bryan Doyle has welcomed the Service Support Funding extension for MARCIA Women's Refuge in Campbelltown. "The extension of funding for MARCIA Women's Refuge until June 30, 2017 will allow them to work with homeless Aboriginal women, children and families experiencing domestic and family violence, as well as women with drug and alcohol issues," said the Liberal Party member for Campbelltown.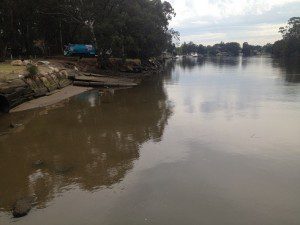 Parliamentary Secretary for Transport and Roads Ray Williams and Menai MP Melanie Gibbons have announced the NSW Government will invest $3.5 million on 19 key boating projects in Botany Bay, Georges River and Port Hacking region to boost safety and accessibility for boaters. The work forms part of an overall $37.5 million funding commitment on almost 200 priority projects state-wide. This includes two priority projects in the Holsworthy electorate, Mr Williams said.
·         upgrades to the seawall and parking improvements at the boat ramp at Davey Robinson Reserve, Moorebank (pictured at left), and
·         upgrades to the jetty at Pleasure Point.
"The boat launching facility at Davy Robinson Reserve is being upgraded in stages to improve usability.  The seawall and foreshore to the reserve are generally in poor condition and require substantial reconstruction to stabilise,'' Ms Gibbons said.
 Environment Minister Rob Stokes and the Member for Campbelltown Bryan Doyle have announced funding for a new chicken pen and storage shed at John Therry Catholic High School to help students learn about sustainable living. Mr Doyle said the NSW Government was pleased to support the school's efforts to engage students in this initiative. "This new chicken pen will provide an authentic animal husbandry learning experience for students. It will also help the whole school community share social skills and build an understanding of sustainable living," Mr Doyle said.