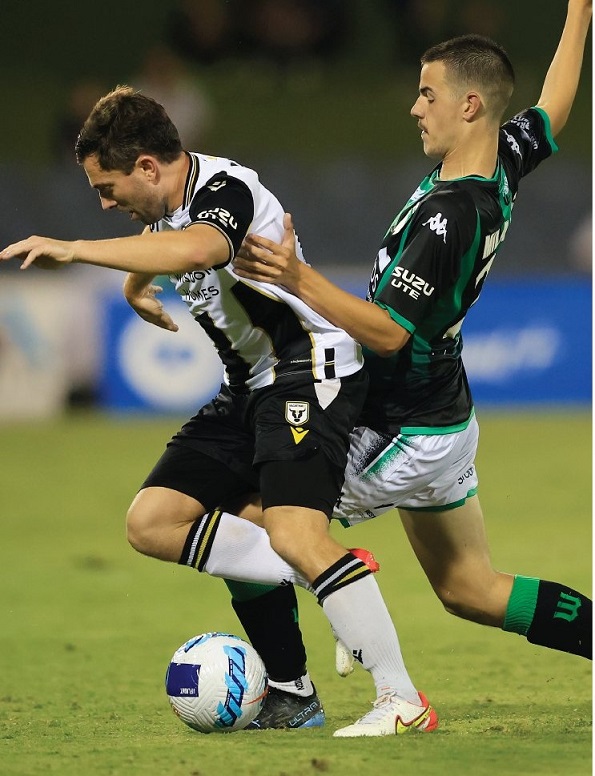 Last night against Western United at Campbelltown Stadium, Macarthur FC were as rusty as a team that hasn't played for 36 days can be.
For 75 minutes they struggled to keep up with the pace and with the scoreboard at 0-2 they were looking down the barrel of a big defeat at home.
But Ante Milicic's team has shown since its inaugural game in late 2020 that it has fighting spirit like no other.
When it's down on the scoreboard, it will hustle and bustle to get back into the game.
It has done so on many occasions as die hard fans would know.
Last night was another one of those memorable performances of true grit from the Bulls.
It was a pity so few fans were there to witness it, but given time they will come in the future, because this is a special club being built at Campbelltown Stadium by Milicic and his coaching team.
The club head coach was the first to admit after the game that his boys were inevitably rusty after a 36 day break from playing.
However, he was very pleased that they had again shown the resilience they are becoming known for in the league.
"I knew it would be a difficult one for us – it has been 36 days since we last played, and also with the humid conditions tonight,'' Milicic said.
"The majority of the squad had Covid during that 36 day period.
"Tonight we were very rusty, and lacked a little confidence, although the guys were excited to be on the park at last.
"I am super proud of the effort they put in – it is definitely something to build on.
"I am glad we got a point, we deserved it,'' Milicic said.
Macarthur FC players may have been happy to be back in action, but they lacked energy and enthusiasm, especially in the first half.
Too many times when they were attacking they would run out of ideas and turn backwards – all the way back to the goalie – in order to reset.
The visitors though were looking dangerous most of the games.
John Aloisi's Western United is quite a physical side, with a lot of speed out wide, something the Bulls struggled to deal with last night.
They went up 1-0 after 15 minutes, and the coaching compound celebrated like they won $40 million on Powerball when they scored again 73 minutes in.
But their celebrations were short lived.
Four minutes to be exact.
Lachie Rose, who had just been injected into the action as a substitute, weaved his magic on the left and made it 2-1- with a thunderbolt that gave the United goalie no chance.
This was like a signal to the Bulls, who lifted from that moment, and it looked almost inevitable they would equalise – and maybe even get a winner.
The hustle from the Bulls paid off – the equaliser came with three minute left on the clock, courtesy of defender Tomislav Uskok.
It finished at 2-2, which was a fair result in the end.
This Sunday, the Bulls take on Wellington Phoenix at Campbelltown Stadium from 4.05pm.