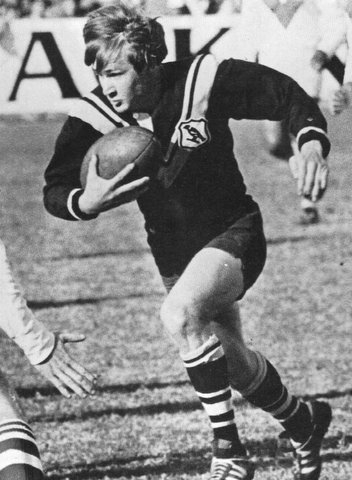 Say it isn't so, tell me it's not true that Tommy has died.
They were the words of one of our callers this morning, and it was our melancholy duty to confirm that rugby league great Tommy Raudonikis had gone to the great rugby league field in the sky.
There were no surprises there for me, because there was a lot of love between the people of Campbelltown and Tommy Raudonikis.
The moment Tommy arrived in Campbelltown in 1995 to coach for the first time his beloved Western Suburbs Magpies, the town came alive.
Tommy, always a country boy at heart, adopted Campbelltown immediately, because as he told me many times, "these are my kind of people''.
For five years until the end of the 1999 season Tommy Raudonikis was more than the Magpies coach – he was the king of Campbelltown.
He would jump into the back of a ute armed with a loudspeaker and up and down the main street he would be urging everyone the Magpies were playing at Campbelltown that weekend and they should get down there to support the boys.
Sometimes he even offered to pay for the cab fare to Campbelltown Sports Stadium!
Can you imagine an NRL coach doing that today?
Along with the players, most of whom lived in and around Campbelltown, Tommy really brought a sense of excitement to Campbelltown, the proud owners of a national footy team.
He made sure the team were part of the community, always entering a float in the Fisher's Ghost festival parade ever November, attended other community events and had team meals either at Court Tavern or Wests Leagues at Leumeah.
Tommy coached the club for five years, and on field success was elusive after the first season, but that was mostly because there was no money for players or resources.
And while he went on to coach the NSW Origin side during the Super League war, Tommy was always an underrated rugby league mentor.
He was sometimes given backhanded compliments such as, "he's a great motivator'' and so on.
But only Tommy could keep the Western Suburbs Magpies going on the smell of an oily rag and for that alone he will be fondly remembered by the fans.
And he will be remembered too as the toughest halfback ever to play the greatest game of all.
One thing a lot of people don't know about Tommy is that he had a modern attitude towards women that was ahead of his time.
He despised blokes who put women down and once told me a story about a famous commentator who turned his back on Tommy's partner as soon as he was introduced to her at a function in Campbelltown.
Tommy respected women, both those in his life and in the general community.
He is a great man and I am so glad he was one of us for five shorts years.
On behalf of Campbelltown and Macarthur, our deepest sympathies to the family of this great Australian.
Tommy Raudonikis, rest in peace, mate.