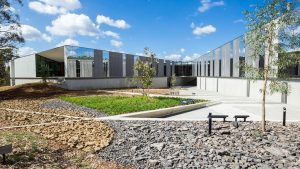 The Macarthur region's talented young writers and artists have been recognised at the Threatened Species art and writing competition awards presentation at the Australian Botanic Garden, Mount Annan.
The presentation was held on National Threatened Species Day last week and provided entrants with the opportunity to go behind-the-scenes of the Australian PlantBank facility (pictured), and be taken on a nocturnal tour of the garden's endangered Cumberland Plain Woodland.
Almost 500 entries were submitted in the art category of this year's awards, while the writing category – held for the first time – attracted more than 30 entries.
The competition invites students from across Macarthur to learn about local threatened species through the creation of vibrant and colourful artworks, or short stories that highlight the vulnerability of our region's plants and animals.
It gives children aged five to 12 years the chance to win great prizes and have their work displayed in a travelling exhibition held across Macarthur throughout September in recognition of Biodiversity Month.
Some of the best artwork and creative writing pieces will also be published in the inaugural Threatened Species Art and Writing Competition Storybook.
Mayor of Campbelltown, Cr George Brticevic, congratulated all the entrants on their outstanding, creative work which reflected their interest in and concern for the natural environment.
First prize winners in each artwork category received an Eco Pack valued at up to $250 which included environmentally themed books and crafts.
Second and third place prize winners received an Eco Pack valued up to $100, and $50 respectively.
The overall winner of the writing competition won a personalised behind-the-scenes tour of the Australian PlantBank, plus a free education excursion for their school from the Macarthur Centre for Sustainable Living.
Their story will be published in the inaugural Threatened Species Art and Writing Competition Storybook.
The two best entries from each school will also be published in the storybook.
Wilton Public School had the highest number of entries overall, and won a prize donated by sponsors, the Australian PlantBank and Symbio Wildlife Park.
For more information, including a full list of animals and plants that are classified as threatened species in the Macarthur region, visit campbelltown.nsw.gov.au/TSAC
2017 THREATENED SPECIES ART AND WRITING COMPETITION WINNERS
ART:
5 to 6 years  Torres Raboso, Carter Stanislad, Jonty Carter.
7 to 9 years Fatimah Khan, Georgia Brooke, Jeremiah Leota Brown
10 to 12 years Scarlett Corcoran,  Tali Cooper, Brett Langton and James Harnett
WRITING:
Overall Meira Herringe
Schools
Appin Public School  – Tahlia Greenwood and Amylia McKenzie
Wilton Public School – Amelia Perriotte and Diana Adamovic
Harrington Park Public School – Benjamin Kitchen and Chelsea Jones
Briar Road Public – Jade Hughes