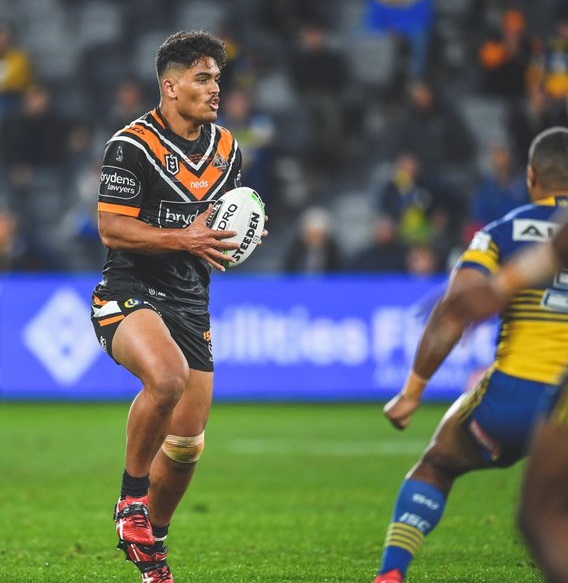 The Wests Tigers may have uncovered a new rugby league star in their gutsy 26-16 defeat to the Eels last night.
Shawn Blore, a 19 year old giant forward making his debut in first grade put in an impressive performance.
Nobody was more impressed with Blore, picture in action above, than his coach, Michael Maguire.
"It was good to see Shawn – I don't think he's played a proper game of rugby league in 14 months," Maguire said after his team's gutsy performance.
"To see a young fella to come out and play the way he did, it was a great welcome to first grade. He played a lot of time too and I wasn't expecting that.
"He is strong and showed that he can play at this level now and I'm looking forward to seeing him push for an opportunity again."
Wests Tigers head to the SCG for their next match against the NZ Warriors on Friday, July 31.
The round 12 clash was originally scheduled to be played at Campbelltown Sports Stadium.
However increased risks of exposure to Covid-19 there since South Western Sydney became a hotspot for the virus after the Crossroads Hotel outbreak forced officials to relocate to an alternate venue.
After their defeat at the hands of Parramatta, Wests Tigers won't care where they will play next, so long as they return to the winners' circle to keep their finals hopes alive.
They certainly played well enough against the Eels to have beaten lesser teams, and the coach was particularly pleased with the effort.
"As much as we don't like falling short, I was really proud of the team tonight," Maguire enthused.
"They represented the Wests Tigers jersey really well.
"There was a lot going on in that game; at one stage I had no one on the bench. We had a few getting patched up or working out if they were in the centres or in the middle; I was proud of the group.
"Those sorts or games are the ones the boys are learning how to play now.
"They're a tough team and to be able to fight to the end and still be fighting the way in the way they had is what the jersey is all about.
"They're a tough team and they showed the toughness that we're working towards. We just need to keep putting that amount of effort in and things will start swinging the way we want them."