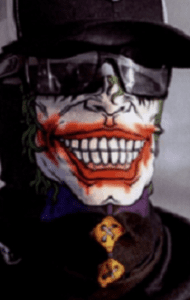 Police are appealing for public assistance after an armed robbery in Spring Farm in which one of the bandits wore a distinctive and unusal mask similar to the one shown here (left).
About 4.30am on Friday, February 17, an employee closed a licensed premise on Camden Valley Way, Narellan, and drove to a home on Deleware Street, Spring Farm.
Police have been told two unknown men, one armed with a pistol and wearing a mask, entered the 39-year-old man's car.
They threatened him and forced him to return to the premise and take cash.
The man complied and was then asked to drive to a hardware store on the corner of Northern Road and Porrende Street.
Once at the location, the man was tied to the vehicle and assaulted, before the unknown men left in a black Ford Falcon.
A passing motorist assisted the man and officers from Camden Local Area Command were contacted.
As part of their investigation, police would like to speak to two men who may be able to assist with inquiries.
An image of a mask similar to the one worn by one of them during the incident has also been released and shown here.
The first man is described only as wearing a hooded jumper, black gloves, and face mask.
The second man is also described as wearing a dark hooded jumper and gloves.
Anyone with information is urged to contact Narellan Police Station via Crime Stoppers on 1800 333 000.