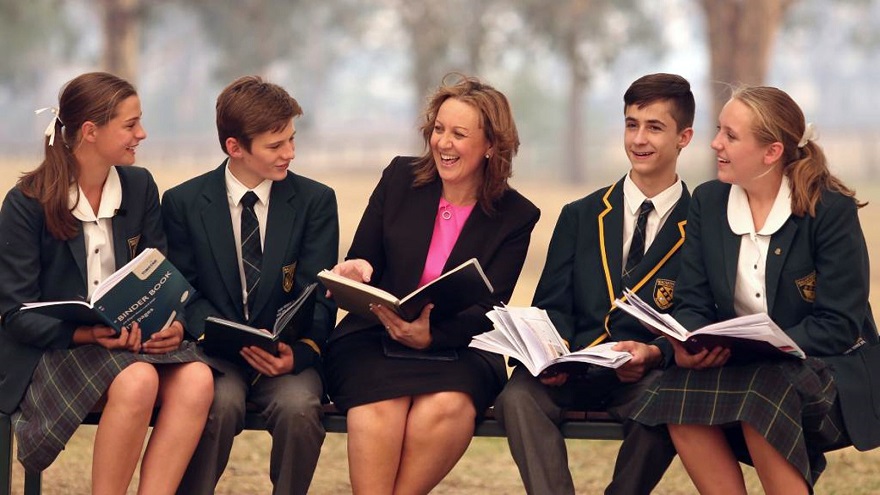 The school curriculum is currently undergoing significant changes under the guidance of the NSW Education Standards Authority (NESA).
The leaders at one local school, Macarthur Anglican, say they like what they have seen so far.
In a recent address to more than 300 learning leaders, NESA CEO Paul Martin spoke about creating space in the curriculum.
He said it will give teachers more time to teach core content in-depth, and give students opportunities to apply skills, which builds depth of learning.
Macarthur Anglican dean of studies, Kylie Elling, pictured above with some of her students, agrees and says the reform she is seeing so far from NESA is about making space for teachers.
"We're not necessarily seeing a culling of important content; instead the curriculum is being streamlined and re-sequenced – it's about making space and finding clean air.
"The focus for curriculum reform that we've seen thus far has been on the foundational curriculum. The K-2 English and Mathematics syllabus.
"We've also been impressed at the consultation process that NESA has in place. The formation of the TENS (Teacher Expert Networks) with over 200 teachers involved, including our head of English Blair Colella has been an excellent addition to the reform process.
"The TENS approach is a complete shift in thinking and has become more research-based. It involves current teachers in schools developing the syllabus from a base," Mrs Elling said.
In Blair Colella's case, she attended her first TENS meeting in February and returned to the school to share with her colleagues at Macarthur.
"It's extremely rewarding to be involved in TENS. It's very unusual for teachers from all three sectors of NSW education to connect and have a strong voice in how the curriculum is written,'' Mrs Colella said.
"Ensuring that the TENS groups are all current teachers with a significant teaching load across all sectors, regions, subject expertise and year group is critical to its success.
"I'm really enjoying being involved and particularly connecting with other teachers from the Macarthur region," said Mrs Colella.
NESA says the current curriculum is overcrowded and has identified a new direction in its NSW Curriculum Review Final Report saying it needs to be refocused.
"This is just the start of the curriculum reform and we're looking forward to finding out more, and playing an active role," Mrs Elling said.