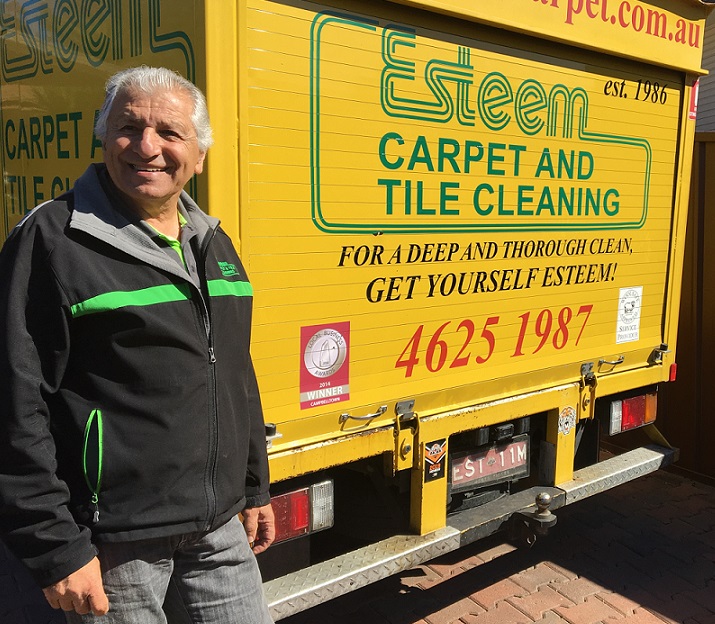 He's cleaned the carpets and tiles of Campbelltown homes for 33 years, yet Sal Saad has no hesitation in replying, "I love it'', when asked how he feels about the business he started in 1986. But let's make one thing clear: he doesn't love what he does because he's making mountains of money from it.
"If I was doing it for the money I would have quit long ago,'' he tells me when we sit down at Eagle Vale to have a chat about Esteem Carpet & Tile Cleaning.
"Why do I love it? It's a bit of everything,'' says Sal.
"Sometimes you clean a carpet where they've said, look, just do the best you can, we're going to change it next year.
"And after I've cleaned it they come in and say, wow, that's really good. You see the look on their face and how happy they are.
"And then they ring you the next year and you say: weren't you getting rid of it? And they say, it came up so well we're not changing it.
"So you're also actually saving people money as well as cleaning their carpets,'' says Sal.
"You also get a thrill when you see a post on Facebook asking for recommendations for a cleaning business and someone gets in there and responds: My carpet cleaner is Sal Saad of Esteem Carpet & Tile Cleaning. Not, I use this one, they're good, but, he's my carpet cleaner.''
Before Esteem was even a glint in his eyes, Sal Saad was a panel beater who owned a small workshop in Peakhurst.
Eventually he got sick of the long hours – six days a week – and the dirty and dusty work, so he pulled the pin.
After selling the smash repairs, Sal was in between jobs when his brother in law asked him to do a bit of work for him in his cleaning business.
"I did it and I liked it, so I thought I'd give it a go, and I did and have never looked back – I love it,'' says Sal.
There hasn't been a small business in history which was an overnight success and Sal's was no exception.
But at least he had already run a business, the panel beating workshop, so had some experience to inject into the cleaning business.
Which is just as well because the 1980s, when he started the business, were a very different era from the digital world we know today.
Basically, most local marketing available then was paper, whether it was the local newspaper, phone directory or the Yellow Pages,
"It was really hard, you had to advertise in the local papers and then you had to sit back and wait for the calls to come in,'' recalls Sal
Which was never going to be enough, so he also went door knocking to drum up some business.
"This was when Macarthur Square was a lot smaller so I'd go to all the stores, walk in and say, hi, is the manager here, they say, no, and I'd say, I'll just do a quote, and they'd say, not interested, and I'd say that's fine, I'll do one and leave it, if you're interested call me.
"I ended up getting 10 jobs out of that, something likethat,'' says Sal.
Something that he picked up from smash repairs, an old fashioned thing, having pride in your work, proved invaluable in the cleaning business.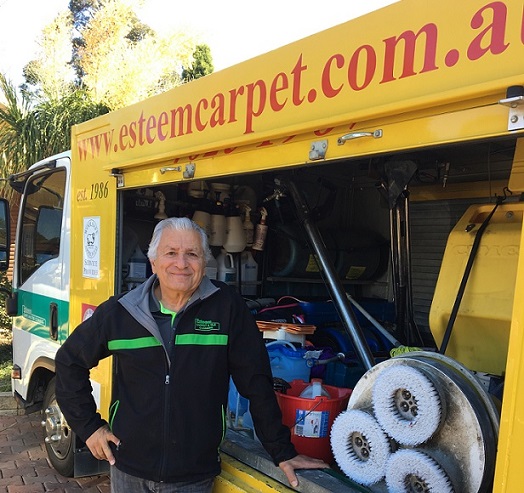 "I'm very meticulous with my cleaning work,'' says Sal.
"In smash repair, say if I had done a repair and there was a ripple in the panel, it wasn't acceptable; if there was dust in the paint, it wasn't acceptable; so you had to try to be virtually perfect.
"So from that it naturally came into this job as well and I tried to do the same in the cleaning business, tried to be as perfect as possible.''
As a result he has a lot of regulars – most of his work is repeat clients, followed by referrals.
Carpet cleaning in domestic situations is till the majority but these days there's also a lot of tile cleaning work.
"Some weeks I do as much tiles as carpets,'' he says.
There are also commercial clients such as Harvey Norman stores and local ones like Dumaresq Street cinemas.
"The Dumaresq Street cinemas you have to start the job at midnight and finish at 8 in the morning,'' Sal says.
"If I have to do the seats I get someone to help, otherwise it would take a week to do it.''
Like all good businesses in Campbelltown, community involvement is a big cog in the wheels of Esteem Cleaning.
"I was looking at it recently and worked out about five percent of my turnover goes towards supporting local charities and sport clubs,'' says Sal.
He supports 24 Hour Fight Against Cancer golf days, Macarthur Disability Services, Polly Grundy's OCAGI, the Campbelltown chamber and Rotary, among others.
Then there's sport where he sponsors his grandson's under 8s footy team and a female player from the Narellan Jets rugby league club.
"We keep it local, because the money stays local for local things and that's important,'' says Sal.