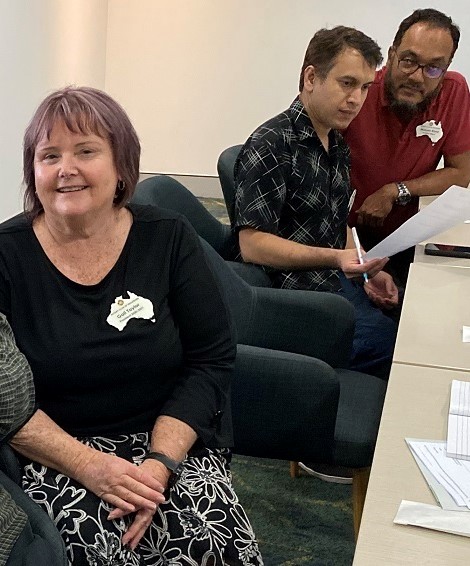 Ingleburn Rotary has been named District 9675 club of the year after an incredibly productive 12 months and despite the challenges of a global pandemic.
District 9675 consists of 59 clubs spanning a geographical area south of the Sydney Harbour to the west just short of Penrith, then across to Wallacia, Picton to Kiama and then up the east coast.
As well as a 24 percent increase in its membership, Ingleburn Rotary started no fewer than 17 projects during 2020-21, when Gail Taylor (pictured at right) was at the helm as president.
Three Covid support projects were launched, along with international activities in Nepal and Bangladesh.
Five major new ongoing community programs were started during the year, plus a youth project also got under way.
The club was also involved in two joint community projects with other Macarthur Rotary clubs.
It also found the time to boost its engagement with the community through a new website and an active Facebook page, plus monthly newsletter circulated to club members, community leaders, schools, and the public in general.
However, while Ingleburn Rotary is celebrating, another local Rotary club has had to postpone its Police Officer of the Year award presentation night.
Liverpool Greenway Rotary has recently informed sponsors and supporters that given the continuing lockdown there was no other option than to cancel the function scheduled for September 7.
June Young, the president of Liverpool Greenway Rotary club and chair of the Liverpool police officer of the year committee, said the club would work with Police Area Commander Adam Whyte to have a presentation at Liverpool Police Station once it was safe to do so.
"Everything is ready for the presentation to go ahead, trophies, plaques, certificates have all been prepared and invitations accepted,'' June Young wrote in the note.