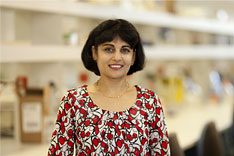 The Ingham Institute's Professor Minoti Apte last night won the 2015 NSW Premier's Award.
The honour is part of the 2015 NSW Woman of the Year Awards, which were held at NSW Parliament House.
Professor Apte received an Order of Australia Medal (OAM) last year for her internationally acclaimed work in pancreatic cancer.
She is already a renowned world leading researcher in the field of alcohol-induced pancreatic injury and pancreatic cancer.
Prof Apte, pictured, is the Director of the Pancreatic Research Group at the Ingham Institute for Applied Medical Research at Liverpool Hospital.
Her work investigates pancreatic cancer at a cellular level to find out how and why the cancer is so aggressive and spreads so quickly.
She was the first in the world to develop a method to isolate and culture pancreatic stellate cells (PSCs), a technique which provided a much needed research tool for studying the pathogenesis of pancreatic fibrosis.
She is currently leading pre-clinical studies that are primed to suggest new treatments for pancreatic cancer – the fifth leading cause of all cancer deaths in Australia.
"I am truly honoured to receive the 2015 NSW Premier's Award,'' Prof Apte said.
"This award is not only reflective of my own achievements but the achievements of the entire Pancreatic Cancer Research Group.
"I wish to pay particular tribute to my mentors, Professor Jeremy Wilson and Professor Ron Pirola and also to my current PhD students Zhihong Xu and Sri Pothula for their tireless work.
"Achievements like this inspire us to work harder to continue to develop novel approaches for the treatment of pancreatitis and pancreatic cancer," Prof Apte said.
"It's also very humbling to be a positioned as a role model for NSW women to aspire to. Australia needs more women in science and I'm delighted to have the opportunity to represent and promote medical research as an aspirational and incredibly rewarding career option for the women of NSW."
An annual program, the NSW Women of the Year Awards recognises the outstanding contributions of women in NSW and celebrates their significant achievements.
The NSW Premier's Award represents the pinnacle achievement of the program and celebrates and highlights extraordinary women in NSW who display excellence in a career, field or passion or are a high achiever in a traditionally male-dominated area.